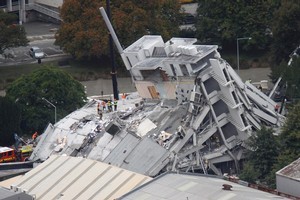 The search of the Pyne Gould Corporation building in central Christchurch is over, Fire Service search co-ordinator Paul Baxter said this morning.
Some bodies were removed from the building, one of the scenes of worst devastation and loss of life in the earthquake 10 days ago, during the night, he said.
The number of bodies found in the building has not yet been revealed. The official death toll from the magnitude 6.3 quake stood at 163 today, with police expecting it to reach 220.
"For our specific larger scale operations in the Pyne Gould building, the operation by the United Kingdom teams has now been completed," Mr Baxter told reporters this morning.
"We'd like to thank those United Kingdom teams for their dedicated and determined effort to concluding that operation."
Searchers are still clearing the Canterbury TV, ChristChurch Cathedral and Forsyth Barr sites.
Up to 100 people were thought to have died in the CTV building, including many foreign students.
Mr Baxter said the work there was down to the last stages. However, "it is very slow and some more time is required to complete that job properly."
Work was continuing around the clock at the Christchurch Cathedral, as engineers attempt to get into the spire, where more bodies are expected to be found.
"The Forsyth Barr building is also a complex engineering operation. Crews are still working they way down from the top of that building and completing a floor to a floor and a half over a day's period. It's a substantial operation to get through each floor level," he said.
Workers on the international urban search and rescue teams were being rotated to give them some rest, Mr Baxter said. They have obviously been working very hard.
Australia is replacing its 74-strong team, with newcomers arriving tomorrow, while the United States team has extended its stay for another week.
The Fire Service attended seven fires in the city overnight, caused by mainly by the restoration of power.
"There is a total fire ban in place and we need that to be respected."
- NZPA