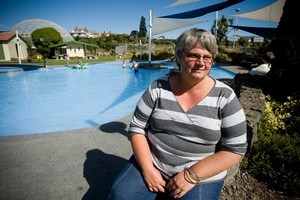 The exodus from earthquake-ravaged Christchurch is swelling Canterbury towns but they say they are coping and will take as many refugees as necessary.
In Timaru, about 150km south of Christchurch, about 7000 Christchurch people have moved in since last week's deadly quake.
"Which is almost 20 per cent of our population," said Timaru District Mayor Janie Annear.
"When you walk down the streets, there's people everywhere. I've just been noticing there's so many faces we don't know. Timaru is coping very, very well."
People arriving from Christchurch were traumatised, and often with "only the clothes they put on that morning", Mrs Annear said.
"Anything you think that they may have needed, the community has donated."
Any vacant rental homes have been quickly snapped up by displaced families, and Timaru schools have taken on more than 300 new pupils. Other new arrivals were staying in hotels and motels, with family and friends, or in homes offered by Timaru residents. No one has had to spend nights at a welfare centre set up at Timaru's Caroline Bay.
Tracy Laby fled to Timaru with her three daughters aged 9 to 13 after her Avonside property was damaged last week on top of already significant damage from last September's quake.
"Now it's stuffed. I just thought 'I can't do this again'."
They have been staying in a caravan on a relative's Timaru property.
"I got my three kids into school. The schools down here are fantastic - they helped us out with the uniforms," Ms Laby said.
"I would love to be back [in Christchurch] now, but I'm not going to put the kids through that. I don't think [the quakes] are over yet."
Mrs Annear said: "Right at the beginning, everyone was saying 'we are never going back'. But I know there will be a lot that go back, and that's great.
"We just want to do everything we can to support Christchurch, as we know they would do exactly the same thing if we were in this situation."
At Timaru's Bluestone Primary School, 23 Christchurch children have enrolled since the quake.
"It's a real mixed bag," said principal Ian Poulter. "Some are coming just to get a few days away from Christchurch.
"Others have been badly affected as far as their housing goes. I'm aware of two families that have got [Timaru] leases until the end of the year.
"They feel that their houses in Christchurch are in such bad repair, it's highly unlikely they would be able to return before Christmas at the best."
Two families had decided to leave Christchurch behind and make the shift to Timaru permanent.
"I'm seeing more stress in the adults than I am in the children," Mr Poulter said.
"In the adults, I'm seeing real worry about jobs, finance, their property."
In Ashburton, an hour's drive south of Christchurch, the earthquake welfare centre said up to 1000 Christchurch refugees had come in.
About 400 had spent nights in the centre, said official Rob Davison.
Helen Manawatu and the six children she cares for fled her damaged Housing New Zealand home in Aranui, Christchurch. They are living in a van, eating at the Ashburton welfare centre and the children are at local schools.
"We are terrified to go back," she said.