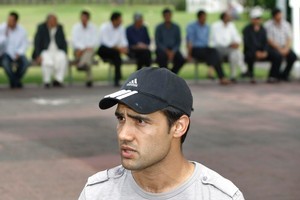 Hundreds of Afghanis who fled their home country have become refugees again - this time from Christchurch, the city they saw as their safe haven.
A group of 110 refugees are back in the Mangere refugee centre after joining an air force airlift of hundreds of Christchurch earthquake victims to Whenuapai last weekend.
Another group of 230 from Afghanistan, Ethiopia, Somalia and Bhutan arrived at Whenuapai on Tuesday.
Ajmal Chakari, 32, a spokesman for the group at Mangere, said he was not aware of anyone in his community who had stayed behind.
"When you see people running this way, people running that way, it was like a war zone," he said. "The only thing you can do is take your family and get away."
Mr Chakari, who came to Christchurch via Malaysia in 2002, said the city was "like my heaven" after the terror of Taleban-ruled Afghanistan.
He brought two younger brothers, a sister and in 2009 his parents came to join him. He met his wife in Christchurch and their two children were born there. He did a postgraduate degree in international relations, owned a kebab shop and an Indian restaurant and was a shareholder in the Blue Star taxi company. He bought the family a house in Heathcote Valley.
"Christchurch became our home," he said.
"My wife's family lived in Melbourne and she was pushing me to go there, but I never wanted to go anywhere in the world except Christchurch, we had that sort of devotion to Christchurch."
That devotion is now in tatters. Mr Chakari's wife became depressed after the first earthquake in September, and when the second big one hit last week both he and his wife ran into the street.
"The street was like paper, tearing itself," he said.
"My wife said, 'God, this is the end of the world.' It terrorised people."
He tried to drive to the Christchurch Polytechnic, where his father and sister were studying, but one side of the street had dropped a metre and the other side had risen a metre. Water was bubbling up everywhere.
When he finally collected the whole family, they drove out to stay first with friends at Rolleston and then in a home in Queenstown owned by friends of his wife's brother in Melbourne.
Then they heard about free air force flights to Auckland and drove back to Christchurch to try to get on one on Saturday. In the end, 88 Afghanis got on a flight with other fleeing residents, and a civil defence worker at Whenuapai arranged for them to stay at the Mangere centre.
"It's strange to be back," Mr Chakari said. "Sometimes I feel a bit disappointed because I worked for almost nine years, very hard work, and I'm back at the same place."
Some families will return to Christchurch. Jaffar Ibrahimi, a Year 13 student at Hagley Community College, said he wanted to go home and hoped his family would return in a couple of weeks. Others were still undecided.
But Mr Chakari said his family was so traumatised that he doubted they would go back.
"Even mention the name of Christchurch, they hate it," he said.
Canterbury Refugee Council chairman Ahmed Tani, a Somali who has stayed in Christchurch, said about 200 of the city's 600 Afghanis, most of its 190-strong Kurdish community, about 65 out of 400 Somalis and a few Ethiopian and Eritrean families had left or planned to leave.
But he was encouraging other former refugees to stay because they were now "part of the city".
"People move from other countries because of man-made disasters - wars and bad governments who are killing the people," he said. "But I don't see any point in people moving away from a natural disaster. It can happen anywhere."
* Immigration NZ has postponed an intake of 150 refugees from Burma, Bhutan and Colombia due at Mangere this month. Agency head Nigel Bickle said there was "now a need to ensure housing around NZ is available for people who may need to relocate from Christchurch".