Chris Liddell writes on the future of philanthropy and how we can get involved.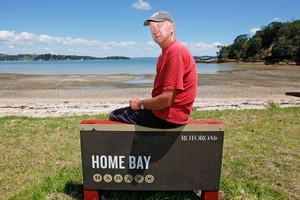 Last week, Rotoroa Island in the Hauraki Gulf opened to the public for the first time in more than 100 years. This event was the culmination of a five-year project that was the brainchild of New Zealand philanthropists Neal and Annette Plowman.
Their gift is a tremendous example of how philanthropy can be used to create multiple winners in society.
It is a win for the public of New Zealand, who now gain access to a beautiful island.
It is a win for the Salvation Army, who received a substantial capital sum to help continue their other critical work.
They also avoided selling the island, and the cost and headache of restoring the island to its original beauty. It is a win for the donors, who have seen their vision unfold.
And it is a win for all the people involved who generously contributed their time to make it happen, and gained significant pleasure in the result.
Amid the wonderful acts of generosity in devastated Christchurch, from everyone from the Salvation Army to many individuals, it is perhaps timely to consider the wider role of philanthropy in New Zealand.
A few years ago I was fortunate to meet Muhammad Yunus, the Nobel Peace Prize winner for his work in micro-lending.
One of his quotes resonated with me: "People are multi-dimensional. They have two, three or many interests and goals which can be divided into two broad categories - profit and social benefit ... the beautiful thing is that people need not be faced with an absolute either/or choice.
"People create rich and varied lives for themselves by participating in both in varying proportions, depending on the goals and objectives they most value at any point in time."
I liked the quote for a number of reasons. First, it reminded me that philanthropy is not something you should "switch on" at a certain point in your life. It is there constantly.
Second, it reinforced my belief that the most powerful way of giving is when you are alive, not as something that you leave behind for others to control after your death.
The concept of philanthropy is still developing in New Zealand, but in powerful ways.
I have been privileged to work with Neal and Annette Plowman who, in an understated way, have been pioneers in philanthropy.
Their other works build on the concept of the Chinese proverb, "give a man a fish and you feed him for a day; teach him to fish and you feed him for a life time."
Other Plowman initiatives were to help establish a perpetual foundation for the Auckland City Mission and University of Auckland Business School to create a stream of income to support future activities.
In both cases they helped structure the foundations, provided seed capital and then agreed to match other donations - giving the entities a capital base and an incentive to cast their net widely for other donors.
Overseas, philanthropy is also developing in interesting ways. The Gates Foundation is doing pioneering work in how to make aid and charity much more structured and measurable, and hence effective.
I was lucky enough to discuss this approach with Bill Gates, and he was determined to make as much of a difference to the world of giving as he did to the business world.
He and Warren Buffett have also challenged (and have received multiple commitments from) fellow billionaires to give away half of their wealth during their lifetimes. Bill appealed to their sense of impact: "He who gives while he is alive knows where it goes."
But philanthropy is not just the privilege of the wealthy.
Looking at the United States, 70 per cent of households give in some way each year, and one in 10 people work for non-profit organisations.
I liked a conclusion quoted in the Growing the Pie report from the New Zealand Cultural Philanthropy Taskforce: "There is evidence ... that support from individuals comes not from the wealthiest but from the 'restaurant rich'; those that earn a reasonable but not necessarily large amount and have some discretionary income to eat out and support worthwhile causes."
So how can we as individuals participate in these trends? First, by giving what you can afford. It doesn't have to be a huge amount.
I started a small scholarship programme at my old high school, Mt Albert Grammar, that is modest in size but meaningful to the students concerned.
Second, remember that time is as valuable as money.
I know that at my old company, Microsoft, we used to have an annual "giving campaign", which involved voluntary work as much as donations.
Third, and most importantly, participate while you are still alive. It is never too early to start. To quote Andrew Carnegie, "the man who dies rich, dies disgraced".
The events of Christchurch have reminded us of how unpredictable life is and how there will always be a role for philanthropy, whether it is in response to a disaster or for causes above and beyond governments' funding ability.
We should see this as a collective responsibility and a personal opportunity.
It is an exciting time for the concept of philanthropy. As we New Zealanders face the challenges of the future, I believe it will not only become more influential but a greater and more enriching part of our lives.
Chris Liddell is chief financial officer of General Motors in Detroit.