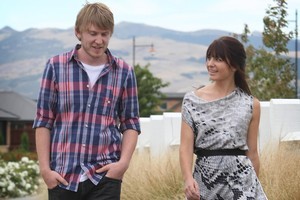 Holly White knew when the glass cabinets wobbled and the windows bent inwards that this wasn't another aftershock.
A few seconds later all the glass around her exploded and she was thrown into the basement and into darkness.
Her story is a tale of incredible luck, of bravery and human survival in the midst of disaster.
Ms White, 26, thought she was going to die. She had recently starting working for World, a New Zealand fashion label, in its High St store.
The store is in the old ANZ Chambers Building - flattened during last week's earthquake.
In her heart she knew nobody could survive a four-storey building of bricks, concrete and steel falling on top of them.
But at the time she was thrown into the basement, the building had not quite collapsed - it would however not survive another aftershock.
Ms White had about a metre of debris around her and rubble on her but she managed to claw her way free and on to the stairwell where there was some space.
"That's how I got the majority of my injuries. From crawling out of the rubble of bricks and glass."
Ms White was pulled out of the rubble by Jono Moran and David Pai, local business owners, who could hear her cries after calling out to her.
"I still get emotional when I think about it. I've told this story a thousand times. They didn't expect to see any survivors. And there I was with arms and legs. If I had been there any longer it would have caved in. Once I got out I had this buzzing feeling."
Although the whole ordeal felt like an age for Ms White, it took a matter of minutes from the time the quake hit to when she was rescued.
"I saw the glass bend. There was glass all around me. I heard the sound of the whole building coming down. Something hit me on my back. On my head. And then it went black, the blackest black I have ever seen. I knew I wasn't unconscious but at that time I knew I was going to die. You never expect something like this to happen to you. I started crying and thought about all the people I loved. It was an out-of-body feeling."
There are many things that saved her life, she said.
Firstly she was flung from the ground floor, down the stairs and into the basement floor, away from the majority of glass that shattered, and away from the three floors above the shop that crashed down on World.
Secondly she managed to free herself from the "tonnes" of bricks and concrete that fell around her blocking her exit.
And thirdly, her rescuers, Mr Moran and Mr Pai, pulled her out of the building before another aftershock and before the rest of the walls caved in.
"The rubble kept building up around me. I tried to head to the doorway. I was hyperventilating. I could hear this dull noise outside. I was later told they were car alarms going off. I went into survival mode. I knew I had to get out of the rubble. I heard my step-mother's voice telling me to get up. I could hardly walk," she said.
"I had only met Jono the other day. It was so dodgy what they did. They put themselves in a dangerous position. I heard them calling me. Jono said he felt stupid calling out [my name] but he didn't know what to do. I managed to get on to the stairwell. Jono and David managed to move enough rubble so they could see me. I knew I had to get out before another aftershock.
"Jono lowered David down head first, and he grabbed me under my arms. I was on the stairs, so I walked up towards him," Ms White said.
Both Mr Moran and Mr Pai are reluctant heroes.
Mr Moran said he did what anyone would have done in his position.
"It happened so quickly. I ran out, and saw the other building [World]. I was yelling trying to find Holly. It's amazing she was the only person in the shop. There is nothing there now but ... rubble. It's pretty crazy," he said.