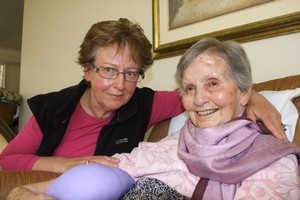 A Christchurch family had to rescue their frail, elderly mother who had been tagged with a label "Nelson" for relocation against their wishes.
Lorraine Dunn, 89, was among about 200 rest home residents evacuated from earthquake-shattered Nazareth House last week to Princess Margaret Hospital in Christchurch.
A patient in the Nazareth House hospital wing since a major stroke left her crippled and barely able to communicate, Mrs Dunn has a large supportive family and network of friends in the city and is visited every day.
When family members learned she might be moved out of town, they urged doctors to find an alternative and left several phone numbers where they could be reached if she was to go.
But when two of Mrs Dunn's granddaughters called at Princess Margaret Hospital on Friday, they found her in a wheelchair with all her belongings and medication packed and wearing a label - "Nelson".
"She was there with a tag on her chest all ready to go," son Peter Dunn told the Christchurch Star. "We had no idea. One nurse had told us she was too frail to be going anywhere and that was good news for us."
Mr Dunn refused to allow his mother to join a waiting bus and took her home.
Daughter Maria Smith said she had pleaded with Dr Simon Templeton, who was in charge of the Heathcote Ward, but was told all the rest home evacuees were being sent out of Christchurch. There was no alternative.
"He didn't really want to know," she said. "I don't think he'd seen mum at all. He didn't seem to care. We were just trouble."
Mrs Smith said she told the doctor her mother was frail, almost blind and would be totally isolated from family support.
"He said it was either Nelson or Auckland. He gets minus zero for bedside manner. I feel they should have rung us. They had all our phone numbers."
Family rallied around on Saturday and with the help of a "very sympathetic and helpful" health board social worker and a nurse managed to find a place for Mrs Dunn in the Ngaio Marsh rest home in Papanui.
A Canterbury District Health Board spokeswoman said she couldn't comment on individual cases. "Due to the urgency of relocating, we were unable to follow normal procedures of working with families."
- APN