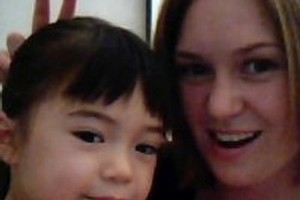 Westpac "millionaire" Kara Hurring has returned to New Zealand after two years on the run but her mother says she is yet to hear from her.
Police were waiting to greet Hurring when she arrived at Auckland Airport on Friday.
The 31-year-old had fled New Zealand for Hong Kong in 2009, with her daughter Leena, after she and partner Leo Gao allegedly took money Westpac Bank had accidentally deposited in their account.
The bank made a $10 million overdraft available to Gao when he requested $100,000. The couple had been living in Rotorua where Gao ran a BP petrol station.
Hurring appeared in the Manukau District Court on Friday and was bailed to a secret Auckland address.
Police have not revealed what charges she will face when she reappears in the Rotorua District Court on March 10.
Her mother, Sue Hurring, lives in Blenheim. When asked yesterday if she was aware her daughter was back in the country, she said: "I've heard."
She told the Herald on Sunday she had not had any contact with her daughter. "I'm not in contact any more."
Another relative told the Herald on Sunday he believed Leena was staying with family in the South Island.
Police have maintained Hurring and Gao transferred $6.78 million into other accounts before they left.
The error was discovered on May 5, 2009. About half the money was recovered, leaving $3.87 million outstanding.
Detective Senior Sergeant Mark Loper of the Rotorua police said the investigation had involved police staff from Rotorua, Hong Kong and China.
"While she has returned to New Zealand voluntarily and she should be commended for having done so, her move has been prompted by police activity," he said.
The Herald on Sunday reported last year that her arrival back in the country was imminent.
Though police have ruled out "doing a deal" with Hurring, the paper said negotiations on the severity of possible charges could have been canvassed.
After her arrest, Loper said their focus remained on speaking to Leo Gao, who split from Hurring in China last year.