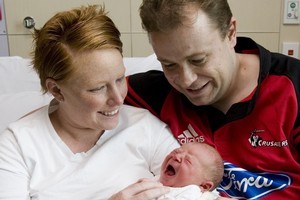 Christchurch couple Hamish and Jess McBrearty have found a bundle of joy amid all the earthquake chaos.
The couple gave birth to little baby Joseph about 5pm yesterday, after Tuesday's earthquake delayed her scheduled induction.
"We were almost two weeks overdue and we were on our way [to the hospital] for an induction," Mrs McBrearty said.
They were in their car near Hagley Park when the earthquake struck, which made the buses in front of them sway like trees in the wind.
"We continued and didn't realise how serious the situation was until we got here."
Some of the people in the hospital were being moved out, which led the McBreartys to believe it was being evacuated.
"We just waited downstairs for a bit ... and we left. What would normally be a 5-minute trip home took 40 minutes.
"It was a bit of a worry. But the main thing was that we were healthy, and I'd just keep him in for another few days."
Joseph was still a bit distressed and was eventually born by caesarean section.
Mrs McBrearty became emotional when asked about the earthquake and how it would change the city where Joseph will grow up.
"It's kind of sad he won't see all the old history, all the old buildings."
The McBreartys did not escape unscathed, as their home has no running water. They plan to take Joseph to his grandparents' place if running water is not restored by the time they leave the hospital.
Samantha Burke, director of midwifery at the Canterbury District Health Board, said there had not been a spike in births since the earthquake like there was after the September 4 earthquake.
She said there have been 65 births since the earthquake, which was not unusual.
She did not know why a disaster often saw a surge in births.
"It's just one of those things. You could blame it on the full moon or the high tide. I think anecdotally people go into survival mode."