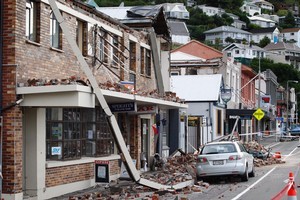 The quake damaged Lyttelton Tunnel is expected to reopen to local traffic by mid-afternoon today after emergency repairs.
"We're working towards having both lanes of the tunnel open for use by Lyttelton residents and essential services this afternoon," New Zealand Transport Agency's networks operations manager for Canterbury Pete Connors said.
The tunnel was closed immediately following the quake after rockfalls caused significant damage to the tunnel canopy and the tunnel control building.
The canopy was demolished and the tunnel control building deemed unsafe to occupy.
The tunnel's electrical systems and exhaust fans were currently operating on back-up generators.
Connors said it was important that only Lyttelton residents used the tunnel as emergency and essential services were relying on the tunnel for access to Lyttelton.
Significant delays could also be expected as the tunnel would be periodically closed in order to allow for the safe passage of fuel tankers.
Alternate access to Lyttelton was available for private vehicles via the Dyers Rd pass.
Connors said that while NZTA understood that residents were anxious to have access through the tunnel, it was important to address the risk from continuing rockfalls on the tunnel approaches.
The NZTA was also working to reopen a section of State Highway 74 (Anzac Drive from Travis Rd to Metro Pl), but surface flooding and liquefaction were slowing progress, and it was now expected that this section of state highway would remain closed for use by general traffic for at least another week, he said.
- NZPA