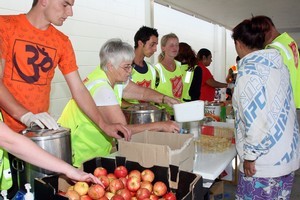 Hundreds of people displaced by Tuesday's earthquake have set up camp at Christchurch welfare centres and more are flooding in.
More than 1000 people are hunkering down at welfare centres at Burnside High School, Cowles Stadium, Pioneer Stadium and Rangiora Baptist Church.
At Cowles Stadium this afternoon, lines of people stretched out the door as many applied to Work and Income officials for food and petrol grants.
A Red Cross spokesman at the centre said hundreds of people were continuing to arrive, including many whose homes had been destroyed in the magnitude 6.3 quake.
He said the mood at the centre was tense, particularly each time an aftershock hit.
"Everyone seems to be quite nervous, but it's probably more reassuring being around people who are going through the same sort of thing."
Mattresses, pillows, and luggage were strewn across the main hall at the centre, which was being run largely by volunteers from the Red Cross, the Salvation Army and Civil Defence.
A couple of people were removed by police after a few incidents of theft and minor assaults.
Naomi Genet, 41, had been at the centre since it opened, accompanied by her husband and six children, and told NZPA the staff were working hard to keep people happy.
"For the most part, they're doing their level best," she said.
"They're certainly looking after people with regards to giving them food and shelter."
Ms Genet said staying at the centre was pretty horrible, and that the smell of so many people in one room was disgusting, but that she could not go home.
"There's no power, water, sewerage. Everything's smashed and the roof's leaking," she said.
"We were going to move everyone into the garage but if there's another shake the whole house could come down on top of us so it's too dangerous."
However, the centre proved to be too much for one group of international travellers, who were packing up to leave for a friend's place this afternoon.
Romain Beaufreton, Romain Boudaud, Gaetan Hulin and Eduard Bouchayer, from France and aged between 19 and 22, along with Frederik Jehle, a 19-year-old from Germany, were staying at the Friendz backpackers in central Christchurch when the quake struck.
The men said they were all on one-year working holidays but that the quake had been the jolt they needed to get out of Christchurch.
"We're going to go as soon as we can get into the backpackers," Mr Beaufreton said.
"We haven't been able to get back and our passports and everything are there."
The centre's occupants had their mood lifted slightly later in the day when Prime Minister John Key arrived for a short visit.
Accompanied by Earthquake Recovery Minister Gerry Brownlee and Christchurch Mayor Bob Parker, Mr Key walked through the centre signing autographs, shaking hands with volunteers and posing for photographs.
Mr Key said told people at the centre his heart and thoughts were with all those affected by the quake.
"We're not underestimating the significance of what you're going through," he said.
"In terms of welfare support, this is going to be here for as long as it takes, and we'll try and do everything it takes to get the core services back on for you."
- NZPA