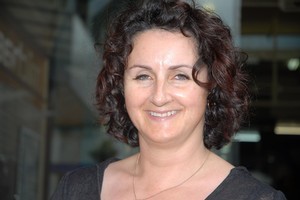 An earthquake survivor is trying to track down a man who lent her his bike so she could get to her children after she comforted a dying man in central Christchurch yesterday.
Lisa Raxworthy was working at the ANZ Bank in Cathedral Square when the earthquake struck at 12.51pm.
As she walked down nearby High St she saw two people lying amid rubble outside a food court at the Link Centre.
A young woman of African descent appeared to have lost all use of her limbs but was conscious. Another man, who had a Christchurch City Council tag around his neck, lay motionless beside her.
"She looked paralysed - hopefully temporarily I don't know, she couldn't move - and he was on the ground. Some nurses had gathered around and were trying to get some air into him but it wasn't going that well," she told NZPA.
"I just held his hand and talked to him and I just prayed for him. He did not respond. We didn't know if he was unconscious or just had a low pulse rate or whatever, but eventually it got to the point where we could tell he had no oxygen coming through and no pulse could be felt on him."
Police arrived to help the woman.
Ms Raxworthy was anxious to get home to her children but her car was in a carpark and she did not want to enter any buildings, having seen the destruction all around her.
A man called Andy, whose last name she did not know, lent her his bike.
"He was a bloomin' angel because I needed to get home and check on my children and he let me ride his bike - his really expensive bike - home. I rode in my work skirt through the liquefaction on a bike that was way too big for me."
She had given Andy her phone number and she hoped he would get in touch.
Ms Raxworthy later learned that she knew the dead man's sister, and had contacted his mother, who was "absolutely distraught".
She had said her son had just turned 40 and had lived through two heart operations and a broken back before the earthquake took him.
The man usually took lunch at the food court around 1pm.
Ms Raxworthy said everyone in Christchurch knew someone missing or killed in the earthquake - the wife of one of her work colleagues was missing in the CTV building.
"It's a very tight city, people don't come and go as often as they do in some of the other cities, people stay here for life.
"I'm a bit traumatised to be honest - and my roof's leaking, some of the tiles have come off the roof."
She planned to attend the man's funeral.
- NZPA