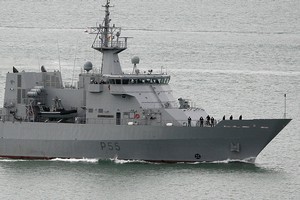 Navy patrol vessel HMNZS Wellington has joined a search for a yacht missing in the Ross Sea off Antarctica.
The Rescue Coordination Centre New Zealand (RCCNZ) said it picked up a signal from a distress beacon the Norwegian-registered yacht Berserk 33km north of Scott Base at 5pm yesterday.
The RCCNZ said the 14-metre steel hulled yacht had dropped two crew on to the ice in an attempt to reach the South Pole, leaving three on board.
HMNZS Wellington was asked late last night to head south to Berserk's last position.
"The navy vessel was prevented from attending immediately due to extremely difficult weather in the region, with reports of winds up to 150km/h and waves more than two metres high and rising," RCCNZ spokesman Ross Henderson said.
It reached the search area about 3am today but found no trace of the yacht.
It completed a search of the area but was restricted by deteriorating weather which now included six to eight-metre swells and winds up to 110km/h.
The Norwegian Joint Rescue Coordination Centre was trying to identify the yacht crew members and contact their families.
Mr Henderson said RCCNZ was liaising with bases in Antarctic about sending an aircraft to join the search when the weather eased.
It has also sent the Sea Shepherd ship Steve Irwin to the search area.
The Steve Irwin, which had been following the Japanese whaling fleet in Antarctica, was about 24 hours away.
Mr Henderson said they were also looking at what other ships were in the area and which could join the search when the weather improved.
- NZPA