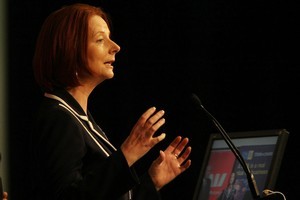 Australia has sent a 40-person search and rescue team to Christchurch as the city reels from this morning's earthquake.
Australian Prime Minister Julia Gillard told parliament she had spoken directly with Prime Minister John Key following an emergency meeting of his cabinet on Tuesday.
Australia would provide any assistance requested by New Zealand, she said, adding the search and rescue team was "literally on its way".
"There is likely to be a lot of searching to do under the rubble."
Attorney-General Robert McClelland said the search and rescue team from New South Wales was aboard a defence plane on its way to Christchurch.
If the city's airport remained shut the plane would land at the New Zealand air force base at Blenheim.
"The team will have search, rescue, medical, engineering and support capabilities," McClelland said in a statement.
He said he was closely watching "an unfolding catastrophic situation".
Gillard said images streaming out of Christchurch were "truly shocking".
"People wandering around with blood literally streaming across their heads and faces.
"Images of buildings that have been reduced to rubble."
Gillard said it was too early to say how many Australians were in Christchurch, but the national women's cricket team, which had been training there, were safe.
"We've got no reports at this stage of Australian fatalities," she said, adding that three consular officials were assisting on the ground.
Australian opposition leader Tony Abbott joined Ms Gillard in extending "thoughts and prayers" to the people of New Zealand.
"Australia stands ready to do whatever we practically can to help," he said.
Foreign Minister Kevin Rudd earlier said there were deep concerns about the loss of life and serious injuries.
"For the people of Christchurch this just isn't fair," he said.
"The damage is large, it's the middle of the working day, and the earthquake has not been deep from the surface."
Rudd referred to Australia's solidarity for its Kiwi friends at "a horrible time" for the people of Christchurch.
- AAP