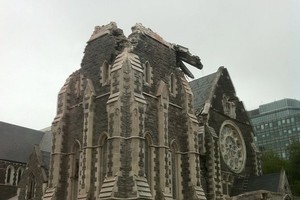 The Government is holding an emergency Cabinet meeting to discuss their response to today's 6.3 magnitude earthquake.
Prime Minister John Key has urged residents to evacuate the city for fear large buildings could still collapse.
In an address to Parliament at 2pm, Mr Key said there was confirmed reports of extensive damage to buildings throughout the city.
He said the Government would stand by the people of Christchurch as they recovered from the latest disaster.
He wouldn't confirm any deaths from the quake.
"At this stage we can't comment. We simply don't know but we know there's been major buildings have collapsed. We have reports of people in the vicinity at the time."
"We cannot rule out the loss of life, obviously this earthquake has taken place at a time where people have been going about their daily businesses.
We are doing everything we can to make sure people are safe evacuating the central city," Mr Key told reporters.
Police had advised him deaths could not be ruled out.
"We know there have been major buildings that have collapsed and we have reports of people in the vicinity at the time, and I certainly can't rule that out."
Mr Key will attempt to fly to Christchurch after an emergency Cabinet meeting at 3pm.
The Civil Defence bunker at Parliament has been activated.
Communication was difficult, he said.
"All Civil Defence procedures have now been activated, the bunker is in operation here in Wellington although it is only in limited contact with our people in Christchurch through both satellite and HF facilities.
"It is an extremely worrying situation for the people of Canterbury and will have significantly unnerved them and obviously at this point our sympathy and thoughts go to the people of Christchurch."
Information was sketchy and officials were working on getting a clearer picture of the situation.

Earthquake Recovery Minister Gerry Brownlee said he was in "deep shock" after receiving reports of today's quake.
He was "desperately" trying to get home from an overseas conference after receiving initial reports about extensive damage to Christchurch.
"My worry is for all the people that are affected. My thoughts are with my own family that are there."
Goff in Christchurch
Labour leader has gone to Christchurch Mayor Bob Parker's office to see if he can help out after being evacuated from the city's airport after this afternoon's 6.3 quake.
His press secretary Francesca Mold described their experience at the Air NZ Koru lounge at the airport.
"It seemed to go on for a long time, paintings fell off the wall, glasses smashed, people were crying, plaster fell in - the roof fell in."
They were evacuated to a car park
"And then another one hit, it wasn't as big... but a lot of people were very upset."
Some construction people nearby were organising volunteers to go into town to help.
"The roads are clogged, there are a lot of people still at the airport that can't leave. And apparently all the lights are out, people are trying to get their kids from school and are quite panicked."
No flights are leaving or landing at the airport.
"I feel shaken, it was the worst thing I've ever felt. It seemed to go on for a long time... it was quite frightening."
- NZ Herald staff, NZPA