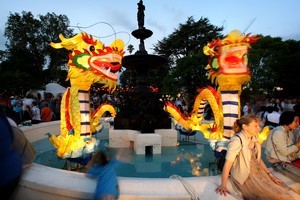 Auckland's fine weekend weather brought record crowds to the city's lantern festivals, organisers say.
An estimated 250,000 attended the 12th Auckland Lantern Festival in Albert Park over three nights, and were wowed by hundreds of illuminated lanterns and treated to local and international performances.
Previous years attracted crowds of between 150,000 and 200,000.
Asia New Zealand cultural director Jennifer King said the warm weather brought capacity crowds in the evenings, with many more choosing to view the lanterns during the day.
She said providing information at the displays this year, telling visitors what they were looking at and distributing zodiac cards, also proved popular.
"We've gone through a lot of trouble this year to do this so that people can learn something, and I've been watching a lot of people reading the signage, so it's been quite pleasing," Ms King said.
The zodiac cards included information on people born under the 12 Chinese animal signs.
This is the Year of the Rabbit, the fourth sign in the Chinese zodiac, which is closely linked to the moon and symbolises happiness and good fortune.
People born under the sign are gracious, kind, quiet, artistic but reserved and are best matched with the pig and sheep.
Performances this year included the Chengdu Puppetry Theatre, which used a 2000-year-old Chinese tradition of rod puppetry, and the Shanghai Bai Yulan jazz bands playing tunes from 1930s Shanghai.
The Lantern Festival marks the end of Chinese New Year festivities.