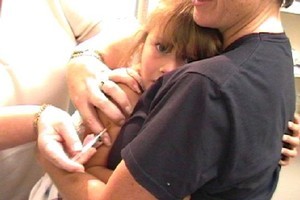 Parents are being warned that unimmunised children will have to stay away from school for up to two weeks if they come into contact with someone who has measles - even if they don't get sick.
A recent outbreak started by passengers on international flights into New Zealand has spread into the community, with estimates that at least 20 people have become sick with the highly infectious disease.
The majority of those cases are in Auckland and involve children. Public health officials are warning schools about the outbreak in a bid to prevent it from spreading any further.
Many schools are sending information home to parents about the importance of vaccinating their children against measles and what to do if there children aren't vaccinated.
Some warn parents that if unprotected children come into contact with someone who has measles they will "likely have to be excluded from school or early childhood centre for up to 14 days".
Ministry of Health population health chief adviser Dr John Holmes said the latest outbreak started after sick people arrived on several recent flights, the main one from Dubai/Brisbane on January 11.
Auckland Medical Officer of Health Dr Richard Hoskins said most school- age victims would have been kept at home while they were contagious.
He said there were two pieces of legislation under which children could be forced to stay at home, either because they were sick or if they hadn't been immunised and were deemed at risk of getting sick. But authorities rarely had to invoke the act.
Dr Hoskins said information had been sent to schools and early childhood centres this month to heighten awareness because measles is such an infectious disease.
"There's always concerns about it getting into schools when there are cases in the community because kids often tend to be the vulnerable ones and schools are great melting pots, great mixing areas."
According to the Ministry of Health around 88 per cent of 2-year-olds have been immunised against measles.
Immunisation levels need to reach 95 per cent to prevent outbreaks of diseases such as measles.
THE DISEASE
* Highly contagious, often causing fever, cough, sore red eyes and a rash.
* People can be infectious before they start feeling unwell.
* The best protection is vaccination.
* Isolation of the infected or those in contact with them is the only way to prevent the virus spreading to the unvaccinated.
LATEST CASES
* 15 in Auckland
* 3 in Christchurch
* 2 in Wellington
Age of the sick:
* Under 1: 2
* 1-4yrs: 2
* 5-9yrs: 2
* 10-14yrs: 7
* 15-19yrs: 3
* 20-29yrs: 3
* 30-39yrs: 1
* Total Cases: 20