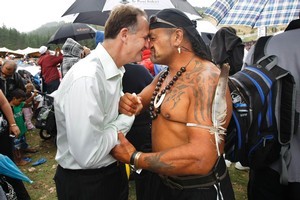 Prime Minister John Key reaffirmed his stance yesterday that people on the dole who opt to use food banks were failing to budget properly.
Mr Key has come under fire after being questioned on "food poverty" in Auckland, when he said beneficiaries who sought help with food did so out their own poor choices.
He said yesterday at a kapa haka event in Gisborne "there was no question that [beneficiaries] are struggling but people also make choices and it's obviously really important that they make good choices.
"We can help them through that. The Government provides a service where we'll directly pay your rent and provide budget services for you."
Support groups for beneficiaries criticised Mr Key's stance yesterday.
Raewyn Sivewright, a 50-year-old beneficiary, agreed there were cases where people failed to budget well, "but for [Mr Key] to make assumptions about those who used food banks ... is pretty out of touch".
The mother of one, from Auckland, said she budgeted stringently, but sought food vouchers on four occasions when faced with unexpected costs.
"I live within my means. I don't go to movies, I don't go out for coffee. I buy a $6.99 bottle of wine for my birthday and make it last a week. But I have a teenage daughter. And if we have medical costs, we don't have much spare."
She said a vegetable garden meant she had not used a food bank for six months. "You can make it work if you try. We eat meat twice a week, and sometimes eat Weet-Bix for dinner."
Beneficiary Advocacy Federation of New Zealand spokeswoman Kay Brereton said the price of food, rent and electricity continued to increase while benefits did not.
"People on benefits and low wages juggle their budgets every week trying to keep their children fed and clothed with a roof over their heads.
"Many users of food banks are, in fact, in employment, showing that work does not set you free; it just adds travel and childcare to the weekly household budget. Before they came to power the National Party spoke of an emerging underclass.
"They seem to have brought their prophecy to fruition and now can blame those in need for not being able to cope with inadequate income."
CASE STUDY
Raewyn Sivewright, 50.
Income (a week):
DPB$278.04 + $5.62
Family Tax Credit$88
Total $371.66
Costs (a week):
Rent (Housing NZ home)$91
Food$120
Power & petrol$40
Phone/mobile/internet$22
Total$293