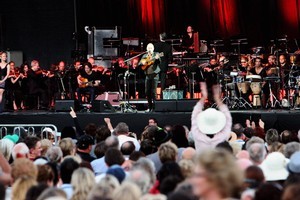 A BYO booze ban at a popular concert left some fans seething, with waits of more than an hour in queues for a tipple.
And when they got there, some found there was no wine left.
A sellout crowd of 25,000 packed in to hear former Police frontman Sting with the New Zealand Symphony Orchestra at the Mission Winery Estate Concert, near Napier.
Anthony Rapaia said he waited for more than an hour only to find that the outlet had run out of the chardonnay that his wife wanted.
"She wasn't too happy about it and neither was I," said Mr Rapaia, who has driven from Wellington to every concert at the estate since 2003.
"I can understand the whole no-BYO thing because some people really did take the piss in the past, but they really needed to have this sorted out. There were some pretty angry people."
The Mission Estate has previously held BYO licences, but that status was removed for Saturday's event as the application for the licence was refused by the district licensing authority.
Apologetic Mission Estate chief executive Peter Holley said his staff would normally have allowed up to 10,000 people through the gates and on to the estate early in the afternoon, but this year people arrived later.
That created bottlenecks and long queues that he said were unacceptable at the concert's liquor outlets. Some temporarily ran out of alcohol and it took staff up to two hours to get queues under control.
"There was understandably a little bit of frustration among our patrons. I think queuing is almost expected at events today, but you do get to a point where it does become unacceptable," said Mr Holley.
"Our service was really good, but we just got inundated and we got to the point where the queues were beyond a reasonable level of expectation and it's something we have to work on."
At its worst point, Mr Holley said some patrons were queuing for up to 40 minutes.
Napier police Senior Sergeant Sarah Stewart said the event was fantastic and considerably lower key compared with some concerts held at the estate.
Police made two arrests for drunken and disorderly behaviour. Last year the number was 14.
"In terms of intoxication and crowd behaviour it was fantastic ... there were significantly lower levels of drunkenness," said Ms Stewart.
The Herald understands St John Ambulance staff also had a relatively quiet night with paramedics attending to about half the number of people seen to at last year's concert.
The Mission Estate Winery Concert - which has hosted a diverse range of international acts, including the Beach Boys, Rod Stewart, Shirley Bassey, the Doobie Brothers, the B-52s, Eric Clapton and Tom Jones - celebrates its 20th anniversary next year.
Mr Holley said: "It's obviously going to be a big year and we'd like to get it right."