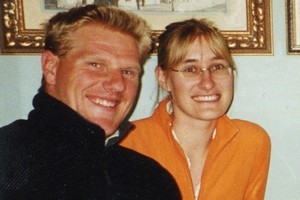 Lee Sheppard's widow cringes as her husband's workmate describes the fear of finding his shredded body in a fridge-recycling chamber.
But Juliet Sheppard has waited eight years and travelled 18,000km with eight family members to get answers about his disappearance.
Her 26-year-old husband was last seen at the EMR recycling plant in North London, where he worked as a supervisor, on January 30, 2003, five days after his wife told him she was pregnant.
The couple had planned to return to their home town of Paparoa, in Northland.
His body has never been found.
A jury at the North London Coroner's Court is about to head into the second week of a two-week inquest into the disappearance. Its job is to determine whether Mr Sheppard is dead and, if he is, how and when he died.
But evidence given this week has changed dramatically from statements originally made to police by witnesses at the time as they struggle to remember the details eight years on.
The witnesses did not know they would have to give evidence in a courtroom until more than six years after Mr Sheppard disappeared when the British Government agreed to an inquest.
The case was reopened by London police after New Zealand private investigator Ron McQuilter, who was hired by the family, concluded Mr Sheppard had been crushed by the plant's recycling machine and suggested the company may have tried to cover it up.
Only a visual inspection of the equipment had been done, he said.
Until then, police had suggested Mr Sheppard may have run away or been a victim of foul play away from the factory.
It emerged in court this week that his father told police soon after he went missing that he may have gone into the sex industry.
The nine jurors and coroner Peter Straker have so far heard from Mrs Sheppard, one of her husband's colleagues and a security guard on duty that night.
They have also seen video footage of the EMR site played by Detective Sergeant Andy Goodwin, who holds the missing person file.
The court is yet to hear from Mr Sheppard's bosses, other colleagues, an engineer, a psychologist and health and safety inspectors.
The last person to see him alive, EMR colleague Ukrainian Dmytro Oliferenko, has been accused by the barrister representing the family, James Maxwell-Scott, of conferring with his bosses before answering questions. Crucial parts of his evidence this week differed from what he has said in the past.
Mr Oliferenko said that on the night Mr Sheppard disappeared, the recycling chamber wasn't working. In his original statement, he said he had climbed inside the machine because there had been a problem.
But this week he said he had never done so or seen anyone else do it and passed the statement off as a misunderstanding as he was still learning English at the time.
Mr Oliferenko explained how after Mr Sheppard went missing a blockage occurred in the chamber and nobody wanted to check inside.
Mr Maxwell-Scott asked: "The reason you were scared is, in the back of your mind, you thought the blockage might have been Lee's body?" Mr Oliferenko agreed.
"We all started to think where Lee might be and thought he might have gone into the crusher," he said.
In his statement to police, Mr Oliferenko said that Mr Sheppard "was always on the go, he tried to fix things" and "managers expected night shift to fix stuff rather than sleep all night" if the plant wasn't working.
Mr Maxwell-Scott reminded Mr Oliferenko, who still works for EMR and was not legally allowed to work for the company in 2003, several times that he was under oath and asked him if he was "scared about the consequences at work" if he said something damaging about EMR. He admitted "that thought had crossed my mind a couple of times".
As the plant was broken, Mr Oliferenko said he and three colleagues had some beers in the plant canteen with Mr Sheppard. He had complained about management that night and talked about downloading pornography on the office computer as a joke.
It was later found that pornography and a white supremacy website had been accessed.
Some time after 2am, a truck arrived carrying fridges and Mr Oliferenko went to unload them.
He thinks he saw Mr Sheppard walk by, either towards the recycling plant or a hole in the perimeter fence where the road could be accessed. That was the last he saw of him.
He tried to phone him a while later to make a joke about the porn but Mr Sheppard's phone was either off or he didn't pick up.
When Mr Oliferenko clocked out in the morning he noticed Mr Sheppard's time-sheet was still there, meaning he had not clocked out.
His backpack and Walkman were found in the canteen later that day.
Mr Maxwell-Scott asked to have a tape-recording played next week of an interview Mr Oliferenko did with police which contrasted some of his answers this week.
A security guard who had been on duty, James Ochan, said he had not seen Mr Sheppard the night he went missing and had not noticed anything suspicious but said that "the weather that night was so bad and so treacherous that I was reluctant to carry out a full patrol" of the site, as he usually did.
Mrs Sheppard said her husband was excited about her pregnancy and the couple had planned to move back to Northland where she would give birth.
The couple's son, Jaden, is now 7.
Mr Sheppard had told her he was concerned employees were using marijuana as it affected their performance. He said he was sick of doing night shifts as it meant they did not spend any time together.
His bank accounts have not been touched since he disappeared.
Mrs Sheppard's mother and sister, Mr Sheppard's mother, his four brothers and Mr McQuilter have travelled from different parts of New Zealand to be at the inquest.
They have sat through hours of evidence, Mrs Sheppard scribbling notes as witnesses spoke.