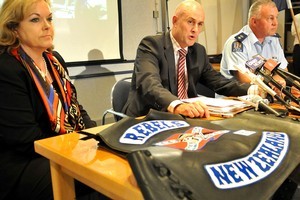 A major police operation resulting in at least 30 arrests and the seizure of $500,000 worth of methamphetamine is likely to stymie Australian gang the Rebels' growing presence in New Zealand, police say.
More than 100 North Island police officers executed more than 40 search warrants in 10 towns and cities yesterday, seizing luxury cars, motorcycles, firearms and drugs.
Thirty people were arrested, including a number from Rebels members, with more arrests expected today.
Nine people have since appeared in court - six in Palmerston North, two in Wanganui and one in Rotorua - on various drug charges.
A 16-year-old boy was referred to youth aid and a 30-year-old woman was let off with a warning.
Another five offenders were due to appear today.
Detective Superintendent Brett Kane, from the Organised Financial Crime Agency of New Zealand (OFCANZ), today said the Rebels were still trying to gain a foothold in New Zealand and yesterday's operation dealt a "severe blow" to their activities.
"This has disrupted the work of a serious organised criminal network which is peddling the misery of methamphetamine in our communities," he said.
"It has also dealt a blow to a would-be New Zealand branch of the Australian Rebels Motorcycle Gang.
"We said we wouldn't be putting the welcome mat out for them and we will continue to thwart their efforts to set up here."
The operation, code-named Operation Stamp, exposed what police believed to be an organised and large scale methamphetamine network and produced evidence that gangs, including the Rebels, were working together to conduct illegal business.
A clan lab was uncovered in Murupara, about 60km south east of Rotorua, and a Palmerston North finance company was also being investigated for suspected money-laundering.
Police seized more than $120,000 in cash and 29 vehicles - including BMWs, Mercedes and Harley Davidson motorcycles - as well as firearms, gang patches, cannabis and methamphetamine.
"The majority of people involved in producing and dealing methamphetamine are drawing benefits and squeezing the taxpayer dry while make making amounts of money that many people can only dream of," Detective Inspector Chris Bensemann said yesterday.
Police Minister Judith Collins said the operation would have a significant impact on the supply of methamphetamine, or `P'.
"Not only will this mean less crime and fewer victims, but it will slow the pipeline of money that is the lifeblood of organised crime," she said.
"The number of gangs involved shows they are putting aside their differences and working together in what is a highly lucrative, but evil, drugs franchise."
The warrants were executed in Palmerston North, Feilding, Levin, Foxton, Otaki, Wanganui, Murupara, Hamilton, Auckland and Northland involved police from Central, Bay of Plenty, Waikato, Auckland and Northland.
- NZPA