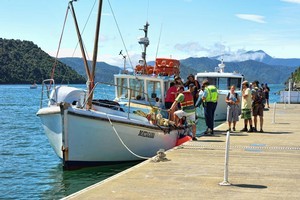 A group of Outward Bound students were thrown into the water when a catamaran collided with their boat in the Marlborough Sounds yesterday.
The students' cutter boat disintegrated under the weight of the 7m launch which was carrying 14 tourists on a sightseeing voyage.
Two students, Whangarei women in their 20s, were flown to Wellington Hospital by the Westpac Rescue Helicopter with leg injuries. Six others were taken by road to Wairau Hospital in Blenheim.
It is the second serious accident involving a Dolphin Watch Ecotours company in 10 weeks.
The catamaran had just left Picton and was heading towards Motuara Island in the Queen Charlotte Sound when the two boats collided about 2.30pm near Wedge Point.
American tourist Denis Shirley said he was sitting at the back of the Dolphin Watch boat when it collided with the Outward Bound boat about 20 minutes into the four-hour trip.
"All of a sudden I heard a loud crash and the boat stopped. I looked and saw debris and young people floating in the water except for about two who were tangled up in the debris of the boat," he said.
Water taxis from Picton helped with the rescue effort.
A South African doctor administered first aid to the victims, Shirley said. "There was a man with a cut on his head and a woman holding her chest underneath her armpit. They were pretty shaken up," he said.
St John spokesman Ian Henderson said three ambulances and a rescue helicopter were sent to Picton just after 2pm. "All patients were on the wharf when we arrived. Two patients from the accident were flown to Wellington. Six patients were taken to Wairau Hospital in Blenheim with minor bumps and bruises," he said. Dolphin Watch Ecotours director Glen McNeilly said the boat's four staff were being interviewed.
In December last year, Adelaide doctor Catherine Carlyle was badly injured after her legs were caught in a Dolphin Watch Ecotours boat's propellers at Ruakaka Bay in Queen Charlotte Sound.
McNeilly said the two incidents were unrelated and Dolphin Watch Ecotours did not have a safety problem.
The skipper, who was not involved in December's crash, would be stood down.
Maritime New Zealand's Sian Routledge said it was too early to say whether an investigation would be launched.
All of those treated were discharged from hospital last night.