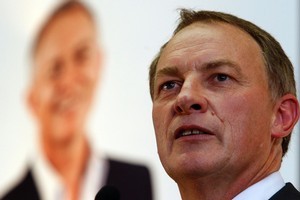 Labour leader Phil Goff has pledged Labour will reinstate the $400 million funding cuts that he claims have pushed early childhood education fees up to $80 a week from today.
Mr Goff will appear at a Manurewa kindergarten today to help launch a petition against funding cuts to early childhood education centres which he claimed would raise fees by an average of $20 to $45 from this week.
He pledged to reinstate the $400 million in funding which was intended to fund centres to have 100 per cent qualified staff. National had ditched that plan, forcing those centres which already employed extra qualified staff to either offload them or find other ways to pay for them.
Mr Goff said yesterday a survey by Labour of 435 centres showed they planned to raise fees by between $2 and $80 a week because of the cut, putting pressure on the family budget and locking some children out of early childhood education.
Prime Minister John Key yesterday said the only thing Labour's policies would do for the family purse was drive interest rates up because the borrowing needed to fund them would force a credit rating downgrade.
"He's just spending billions of dollars and writing cheques he can't afford to cash."
Labour was also planning to extend childhood education subsidies to include 2-year-olds in need of it.
Mr Key said Mr Goff had to explain how he was going to pay for his recent glut of policy announcements - which National has costed so far at $2.5 billion, including $1.5 billion for making the first $5000 of income tax free and taking GST off fresh fruit and vegetables. Labour is yet to release its costings of the policies which include extending paid parental leave, changes to Working for Families and extending early childhood education subsidies to 2-year-olds.
Mr Goff yesterday remained confident Labour could implement its policies without borrowing more than the $300 million a week National is currently borrowing.
He said the recovering economy would help on top of plans to increase the top tax rate to help pay for its policy of no tax on the first $5000 of income. He also confirmed the party was considering other options, including a tax on the interest payments paid to foreign lenders.
He ruled out a capital gains tax but would not comment on the possibility of a financial transaction tax.
Education Minister Anne Tolley responded to Mr Goff's claims of underspending in early childhood education, saying funding per child was now at $7600 a year - higher than the $5528 for primary and $6733 for secondary students.