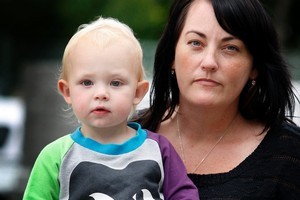 The mother of a toddler has claimed that a buggy - made by a Wellington-based company whose products are at the centre of safety concerns - sliced his finger all the way through to his fingernail.
The company, Phil and Teds, is repairing thousands of its single-seat sport V2 and classic V1 jogging strollers after nine accidents worldwide but says the local buggy - a different model - should not have been in use when Felix Johnson's fingertip was cut, because it was broken.
"Our whole team was extremely upset to learn of that isolated incident - which was investigated both internally and independently at the time - and our hearts went out to wee Felix," a Phil and Teds spokesman said.
However, Felix's mother Vanessa Johnson said the stroller was not broken and is outraged because she feels that Phil and Teds is blaming her for the "horrific" incident in March last year.
The company is working to repair tens of thousands of strollers after nine accidents worldwide - all involving users' fingers getting caught in the stroller hinges while the strollers were being folded and unfolded.
But Mrs Johnson said she was not doing this at the time of the accident and she had no reason to think anything on it was damaged or broken.
She said when the company investigated, they found a lever on the handle which had failed once, but it still worked and even the company's representative told her she could not have known an internal mechanism was broken.
Felix was sitting in the Dash model buggy when Mrs Johnson lifted the front wheel of the stroller to carry him up the steps of the family's Te Awamutu home. When he began crying, she soon realised his finger, which was bleeding, had become stuck in the stroller's side.
"The tip of his finger was 90 per cent off. It was horrific."
Felix began vomiting soon after and was taken by ambulance to Waikato Hospital, where his fingertip, described by surgeons as a "90 per cent amputation", was reattached under general anaesthetic.
Mrs Johnson said Felix had since regained use of the finger.
Phil and Teds upgraded her stroller about a week after the accident.
Mrs Johnson said all she had wanted from the company was an assurance that what happened to Felix, now 2, would not happen again.
In a written statement, Phil and Teds spokesman Richard Shirtcliffe said yesterday: "Please use this story to stress to parents that no product designed for kids should ever continue to be used in a damaged state.
"If you suspect that you've damaged a product please stop using it, contact us immediately and we'll repair it."
The United States Consumer Product Safety Commission and New Zealand's Ministry of Consumer Affairs have issued a "recall to repair" notice on the single-seat sport V2 and classic V1 jogging strollers.
The serial numbers of those affected range from 0308/0001 to 0510/0906.
They were sold throughout the country between April 2008 and June 2010.