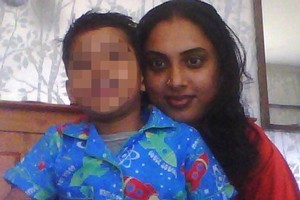 The husband of a woman who was burned to death on the side of a Waikato road last week has appeared in court charged with her murder.
Davesh Sharma, 29, made a brief appearance before a community magistrate this morning and was remanded in custody until Tuesday for a further appearance.
An application for name suppression was declined, as the magistrate said the details of the incident had already been reported in the media.
Ranjeeta Sharma, 28, was alive when an accelerant was poured over her and she was set alight last week.
The next day her husband flew to Fiji with the couple's four-year-old son, Akash.
New Zealand and Fiji police worked together to find Davesh Sharma and he and his son returned to New Zealand yesterday. He was arrested in Hamilton overnight.
Akash was being looked after by a Child Youth and Family (CYFS) foster family in the Waikato, CYFS Midlands regional director Greg Versalko said.
"We will work closely with his wider family to explore what will be best for him for his future," Mr Versalko said.
Mrs Sharma's funeral was held in Fiji yesterday and was attended by a member of the investigation team acting on behalf of the New Zealand Police.
- NZPA