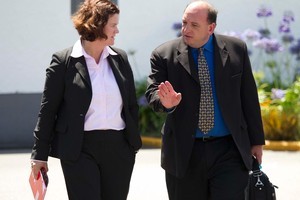 A woman who lost her brother in the Pike River mine tragedy is questioning why the victims' families were given hope of a rescue after the first explosion when experts say it was not survivable.
At an inquest in Greymouth yesterday into the deaths of 29 workers in the mine, chief coroner Judge Neil MacLean made a finding that the men died on November 19 last year, at the time of the first of a series of explosions, or a "very short time thereafter".
The deaths would have resulted from a combination of impact from the blast and toxic gases and lack of oxygen, he said.
University of Otago expert Dr Robin Griffiths told police: "In my professional opinion the miners would have become unconscious as a result of hypoxic hypoxia almost immediately [after] the explosion occurred. They would have remained unconscious until death supervened three to five minutes later."
Jo Palmer, whose brother Brendon died in the mine, told the Herald the families were given real hope after that first explosion that workers might still be brought out alive. It was not until a second large explosion five days later that authorities said hope was lost.
"They could have said [there was no hope] at the first family meeting, and people could have started grieving then," Miss Palmer said.
"You kind of feel like an idiot. Now it just seems like 'who can you trust?"'
Pike River Coal chief executive Peter Whittall denied the families were given false hope. "Hope is what it is at the time," Mr Whittall said.
"You can analyse something in hindsight. I think at the time - certainly I can speak personally - I genuinely believed then, and haven't changed my view, that there was an opportunity to give hope to the fact that they might have survived the first blast, that they could have been holed up somewhere in the mine. Certainly the second blast put paid to that."
Families' spokesman Bernie Monk, who lost his son Michael, 23, declined to comment on the issue of whether there was false hope, after the families' lawyer intervened and said it was something to be addressed later.
Mr Monk said while everyone was prepared for what would be presented at the inquest, it was still very hard for the families to hear.
"A lot of us cried, and I'm still crying inside," he said after the inquest.
"But we'll handle it. It's part of the healing and we'll move on."
Superintendent Gary Knowles had the sombre task of reading through the names of the 29 men, and when their partners, wives and mothers last saw them.
Hearing the names read aloud did not get any easier, Mr Monk said.
The inquest also heard yesterday about the dramatic experience of the two mine workers who got out after being at a survivable distance from the first explosion.
Daniel Rockhouse told police of seeing a white flash and being blown off his feet and left unconscious for about 20 minutes. Russell Smith described a bright light or flash and a "shotgun-type effect".
MINE TRAGEDY
* The coroner's inquest was to establish what caused the death of the 29 workers and when the deaths occurred, therefore allowing death certificates to be issued.
* The issues of how the tragedy happened, whether anyone is at fault, and what should be done to prevent a similar event are to be explored at an upcoming royal commission of inquiry.