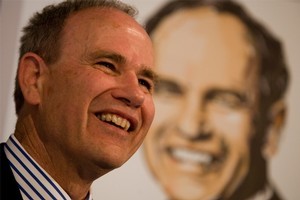 Mayor Len Brown has told the unelected boards of businessmen running most Super City services to tighten their belts and not spring any surprises on the Auckland Council.
He has written a "letter of explanation" to the chairmen and chairwomen of the seven council-controlled organisations reminding them of their obligations to the overall performance of the Super City and their contribution to his vision of making Auckland the world's most liveable city.
He has also listed his strategic priorities for each CCO, most of which are already on the books, such as the $65 million Dominion Rd upgrade and projects for the Rugby World Cup.
Not surprisingly, Mr Brown has told Auckland Council Investments to keep assets in public ownership and asked the Waterfront Development Agency to bring forward work on a 4.25ha park at the Tank Farm.
The establishment of the CCOs to run more than 75 per cent of council services at arm's length from elected representatives was one of the most controversial aspects of the Super City reforms.
Before Christmas, the CCO boards came round to Mr Brown's election promise to open their meetings to public scrutiny.
In his letter to the CCOs, the mayor said the council operated within very tight fiscal constraints and aimed for a rates rise of 4.9 per cent this year - requiring savings of $55 million.
"As a result, there will be limited ability to undertake new projects in 2011-2012."
In fact, Mr Brown has asked the CCOs to come up with capital projects that can be deferred, and placed tough constraints on new spending.
New capital projects of $10 million or more and operational spending above $1 million will be scrutinised, as will increased spending on existing projects which is $2 million or 5 per cent over budget, whichever is lower.

TOP OF TO-DO LISTS
Auckland Tourism, Events and Economic Development
* Secure agreement with Government for international events centre.
* Investigate feasibility of a bid for the 2017 World Masters Games.
Auckland Transport
* $64.7m Dominion Rd upgrade.
* Develop $14.3m Manukau rail link this year.
* Progress planning/design/designations of inner city rail loop.
* Progress work on walking/cycling bridge under Auckland Harbour Bridge.
Waterfront Development Agency
* Waterfront plan.
* Long-term strategy for cruise ship terminal.
Watercare Services
* Explain water and wastewater pricing changes.
* Focus on demand management and conservation initiatives.
Regional Facilities Auckland
* Continue bidding for national convention centre in Auckland.
Auckland Council Investments
* Develop long-term strategy for Ports of Auckland.
* Commit to keeping assets in public ownership.
Auckland Council Property
* $6 million spending on repairs and renewal for properties.