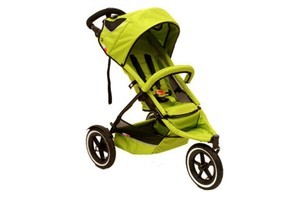 A Wellington-based baby buggy company is working to repair tens of thousands of its strollers amid fears they could cut or even sever users' fingertips.
Although no injuries have been reported in New Zealand, there have been nine accidents reported worldwide and the Ministry of Consumer Affairs has issued a warning on the buggies, made by Phil and Teds.
The warning notes there is a risk of finger lacerations or injuries if fingers get caught in the stroller hinges of the single-seat sport V2 and classic V1 jogging strollers.
The serial numbers of those affected range from 0308/0001 to 0510/0906 and they were sold throughout the country between April 2008 and June 2010.
It remains unclear how many have been sold in New Zealand but the two models have now been discontinued.
Phil and Teds is working to repair the problem and affected customers are urged to call 0800 119 437 so they can be be sent a set of covers for the hinges at no cost.
The United States Consumer Product Safety Commission (US CPSC) has recalled almost 30,000 of the strollers.
CPSC said on its website three of the accidents occurred in the United States after fingers became caught in hinges.
"The stroller's hinge mechanism poses a potential fingertip amputation and laceration hazard to the child or adult when the consumer is folding and unfolding the stroller."
Phil and Teds said: "We believe that in each case either the frame lock was not engaged and the buggy unexpectedly unfolded, or the customer had a finger inserted in the hinge during unfolding. It's clear that the buggies were being used in a way that we hadn't anticipated."
Marketing executive Richard Shirtcliffe said the Sport inline model was popular for about three years but it had "done its dash" and it was dropped last year and replaced with the company's Explorer and Vibe lines.
He said the model was not dropped because of the hinge problem but that hinge design was no longer used. The company's designs were made to pass all relevant product safety standards.
Meanwhile, British newspaper the Independent reported the recall along with the recall of products by Yorkshire pram maker Silver Cross, which it notes is favoured by celebrities including Gwen Stefani and Britney Spears.
At least three youngsters have lost fingernails and fingertips in the past year on a faulty batch of the company's Halo prams, the newspaper says, although parent groups claim the number is closer to eight.
- Additional reporting: Wanganui Chronicle