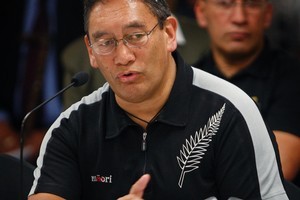 On the eve of a hui to consider a complaint against him, maverick Maori Party MP Hone Harawira has repeated calls for his party to pull support for the Government.
He also says he thinks tomorrow's hui will have serious consequences.
The hui is to be held at Whakapara Marae, 23km northeast of Whangarei, in Mr Harawira's Te Tai Tokerau electorate to discuss a complaint fellow party MP Te Ururoa Flavell lodged over comments the MP made in a newspaper column. The complaint was supported by co-leaders Pita Sharples and Tariana Turia, as well as MP Rahui Katene. The party has hired lawyer Mai Chen to advise.
In a Sunday Star-Times column, Mr Harawira said the Maori Party had become too wrapped up in its coalition and put up with policies that harmed Maori. He also strongly criticised the Marine and Coastal Areas (Takutai Moana) Bill.
The party has argued it has achieved gains through its arrangement with the Government it would never have in opposition.
Today on 3 News Mr Harawira described Prime Minister John Key as a "smiling assassin" and called for the party to set bottom lines, such as a $14 an hour minimum wage, and threaten to pull support if the Government did not agree.
"We need to seriously consider whether or not we should be staying with this coalition," he told TV3.
"We need to make a public statement; 'Dear John, these are bottom line issues for the Maori Party, if you can't meet some of these things we must consider walking away from the coalition in the best interests of advancing the status of Maori'."
Mr Harawira thought the consequences of tomorrow's meeting would be serious.
"I don't know of a political party that's going to spend $25,000 on Mai Chen just to ask somebody to apologise, this is serious stuff."
He did not rule out standing for party leadership if he survived.
Mrs Turia yesterday said Mr Harawira was part of the decision to work with the Government.
"When we signed up to an agreement with National we all sang off the same song sheet. We looked at what National had achieved in the past with our people."
- NZPA