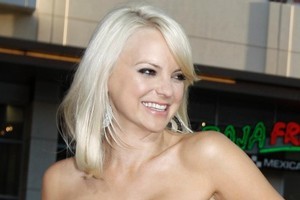 The Herald on Sunday story about Anna Faris being sexually harassed while she was filming here stirred a strong response from readers. Here is a selection of your views.
Disgusting
The comments Anna Faris received from those Auckland men are nothing short of rude and disgusting. They should be ashamed of themselves. New Zealand men have always been considered to be gentlemen and this minority group makes the majority of New Zealand men look bad. I am a 22-year-old engaged man and have never spoken to a woman this way. Just because she is famous and has appeared in movies in which she is "sexy" she should not be subjected to these kinds of comments any more than any other person. I am sure that she does get more comments than the average woman but I'm sure these kinds of things still hurt. And there is a huge difference between a "wolf whistle" and "f*** you, a***hole". These men should be gentlemen, not cavemen. Next time we have movie stars in our country, make them feel welcome.
Yuri Van Toor, Christchurch
Credibility questioned
I am writing to express my disappointment and regret about the presentation of "Are Kiwi males vulgar? A Hollywood star thinks so", featuring comments attributed to a Tourism New Zealand spokesperson. The article inferred that Tourism New Zealand made a personal attack on the actress and her experiences in New Zealand. In our conversation with the reporter, the credibility of the talk show interview was questioned, not the individual's character or the views expressed by her. Our official statement to your paper following the discussion focused solely on overseas visitors' satisfaction of a holiday in New Zealand.
Suzanne Carter, Tourism NZ
EDITOR'S NOTE: The Tourism NZ spokesman said last week, "I don't think she [Faris] has any credibility."
Attention grabber
I haven't had trouble with Kiwi men and I've travelled the world extensively. Does Anna Faris realise that the guys in the cars may not be Kiwis? There are, of course, many races in New Zealand/Auckland. I think she is just saying something to get attention ... as if showing off her boobs wasn't enough. I don't think she is so famous though. I've seen the movies she's been in and I didn't even recognise her name or face. If she was Charlize Theron, Halle Berry, Sandra Bullock or a similar class of actor I would have recognised her. These women are given more respect, though Anna may just be saying she was spoken to in a vulgar manner. Was she really harassed? I doubt it. Publicity stunt, if you ask me.
Renee Purdis, Mangere Bridge
Hostile to women
Tourism spokesperson Ian Long's comments regarding actress Anna Faris were deeply offensive. He claims that an actress' allegations of sexual harassment should not be taken seriously because her previous roles have included nudity and drug use. This opinion defies belief, especially when made by a person who is apparently concerned with promoting a positive image of New Zealand. The only image Long has promoted is that New Zealand is a hostile environment for women, particularly attractive ones.
Alexandra Tunnicliffe, Mt Albert
Lack of respect
Unfortunately some Kiwi men act rudely and in a vulgar way and this gives all Kiwi men a bad reputation. The men should not have acted like that, even if she was a porn star. It shows they lack respect. I believe most Kiwi men are decent but tourists can only judge by their experiences You wouldn't expect this type of behaviour in any other developed country. Some New Zealand girls seem not to mind this kind of behaviour, some even encourage it. I guess it contributes to the Kiwi culture that tolerates this type of behaviour.
Cathy Feng, Glenfield
Ukraine experience
I lived in Kiev, Ukraine, for three months last year. The country is widely known for the beautiful women who live there. In my opinion, it is not just lucky genes. These women dress elegantly, some even provocatively, as they go about their everyday life. Never once did I see a Ukrainian man more than glance at these beautiful women. Women are free to be themselves in Ukraine and accentuate their femininity because men respect them. In return, men have the pleasure of having an abundance of fit, beautiful women in their lives. Can you imagine the abuse and unsolicited attention a woman in New Zealand would receive dressed similarly? It would condition her to put away that dress and wear only loose jeans and a top in public.
Glenn Smith, Palmerston North
Men off-putting
I have met a few Kiwi men who seem to think we are objects and that we enjoy people talking to us in a lewd manner. I find some Kiwi men very off-putting.
Kathryn Partridge, Havelock North