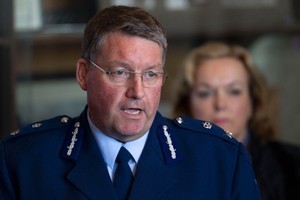 A plan to stabilise the Pike River coal mine has been developed, but the receivers of the company that owns the mine say it is unlikely the bodies of the 29 miners in it will ever be recovered.
The receivers - partners from PricewaterhouseCoopers - met families of the victims to tell them a stabilisation plan had been given to police.
Last night, they said that if the mine was able to be stabilised, "considerable additional analysis" would be required to determine whether the mine could be entered or further developed.
They said the plan was aimed at establishing a stable atmosphere and did not allow for recovery of the bodies or guarantee the mine's future.
It might take up to two years before the mine could be re-entered.
"The plan envisions a temporary sealing, but one where it will be possible to get back in," receiver John Fisk said.
He and the other receivers, David Bridgman and Malcolm Hollis, said they agreed with the police "that based on the extensive work undertaken to date, it appears that a recovery of the deceased miners is very unlikely".
Work to ensure there were no underground heat sources, which could cause explosions, would continue over the next five to eight weeks.
But the receivers noted that changing environmental circumstances could, change these plans.
The work would be funded by the mine.
The families, who were told of the receivers' decision before it was publicly announced, said through their lawyer, Nicholas Davidson, QC, that it was "a very significant step" which would halt recovery and re-entry work.
It would also preclude investigations by the Commission of Inquiry appointed by the Government to find out why the blasts occurred.
Mr Davidson said the families would press for re-entry work to continue.
"We're concerned, of course, because one would expect the forensic [information] that could be gained by getting into the mine will be affected in some way, perhaps significantly, by not having that evidence available."
A spokesman for the families, Bernie Monk, who lost his 23-year-old son Michael in the mine, said families were eager to know what was going to happen.
"The receivers say they're going to take the mine over at the end of the month. The receivers are talking about their plans [and] theirs is for the mine," he said.
Asked what he thought of the likely outcome of there being no recovery effort, Mr Monk paused for a long time before saying that was something that would only be known for sure later on.
Police Commissioner Howard Broad said last night that the receivers' announcement was a realistic one, given the shaky situation at the mine.
"We note that the receivers have acknowledged that recovery of the deceased workers is very unlikely," Mr Broad said.
"This is a realistic position given the compelling advice tendered independently by experts over recent weeks."
He said the police would continue to provide support for the families of the 29 dead miners.
Energy and Resources Minister Gerry Brownlee said police received expert advice that it was "highly unlikely" the mine could be entered safely and had therefore decided to end the operation.
"I was at the (police) meeting last Thursday... I made the very strong point there that there was no way that you could perpetually look toward recovery - knowing from the experts that was simply not a possibility," he told Radio New Zealand this morning.
Even if the mine was stabilised, it was likely a high methane content would mean it was impossible to breathe in the mine, he said.
"There is no one sticking up their hand to say `let me walk up that 2.3km tunnel, set up the oxygen stations that are necessary and then start moving the rubble'...It is a huge operation and at the moment not possible," he said.
- Vaimoana Tapaleao
- additional reporting by NZPA
BETTER DEAD CONTRACTOR
Philip Smith reckons his family would be better off had he been killed in the Pike River mine with 29 other workers.
Mr Smith, a contractor to Pike River Coal before the deadly explosions in November, worked down the mine maintaining the underground diesel vehicle fleet.
"I was supposed to be there that day [of the first explosion]," he told the Herald. "Financially, it would have been better off if I was, for my family."
With Pike River Coal in receivership, more than 80 West Coast contractors and suppliers are owed about $8 million dating back to October. Mr Smith says his firm, Smith Diesel Services, is owed $138,561.
While the families of those killed, surviving miners and company bosses and others are getting paid, as an unsecured creditor Mr Smith has given up hope of ever seeing his money.
"Nobody from Pike has contacted me. Nobody said sorry. I was supposed to be underground, and out of the 35 guys that were on site that day, there's only five or six of us that are still alive."
He said he was initially told he would get paid, before learning the next day that Pike River Coal was in receivership.
"It's going to take me years to get over this. If I do. You try living from October to now with no money. I've had to go and get an overdraft. I've never had an overdraft in my life."
Mr Smith also had to lay off his sole employee, and worked through the festive season to try to pay his bills.
"I've got $40,000 worth of bills I've got to pay this month for [parts for the Pike River fleet]. I can't even sell the parts that I have got because no one wants to buy them."
Development West Coast, set up in 2001 to administer $92 million from the Government to promote economic development in the region, said it could not directly distribute funds to individuals or businesses despite the hardship facing families.
Mr Smith said: "I think DWC needs to come to the party. Who's actually looking after the people? Obviously the Government doesn't give a hoot."
- Jarrod Booker