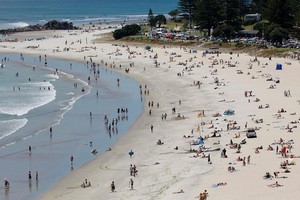 The "Sun Smart" message is slowly getting through - but the dangers of sunbeds continue to be ignored by young New Zealanders, according to new research by Southern Cross Health Society.
A survey of 1000 society members revealed that of 33 per cent of those aged 21-29 had used a sunbed in the past,27 per cent would consider using one again and 3 per cent were regular users.
Although 36 per cent of respondents in the 30-54 age group had used a sunbed in the past, only 14 per cent would consider doing so again.
Southern Cross Healthcare Group CEO Dr Ian McPherson said it appeared some young New Zealanders were either not aware of, or choosing to ignore, the dangers of sunbed use.
"The International Agency for Research on Cancer has calculated there is a 75 per cent increase in the risk of melanoma for those who first use sunbeds in their teens or twenties.
Melanoma is a highly aggressive cancer that can strike at any age."
The survey also found that young New Zealanders were also increasing their risk of skin cancer by allowing themselves to burn in the sun last year, 89 per cent of those aged 21-29, compared to 73 per cent of those aged 30-54, 49 per cent of those aged 55-64, and 27 per cent of those aged 65 and over.
Dr McPherson said though everyone knew excessive sun exposure was incredibly bad for skin, the survey indicated a tan remained desirable for the young and for females in particular.
- NZPA