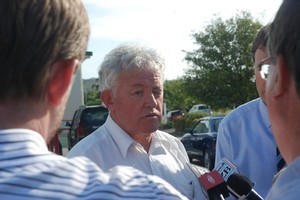 The families of the 29 lost Pike River miners are calling for the Government's decision to abandon recovery efforts at the mine to be reassessed.
In a statement from Bernie Monk, who lost his son Michael in the tragedy, the Pike River Families Committee says its lead counsel, Nicholas Davidson QC, has written to the Commissioner of the inquiry into the disaster and asked for an immediate postponement of any decision pending further consideration and consultation.
The families say they will "engage with a very senior and experienced West Coast mining expert on these issues".
The statement said the families were "shocked" by Prime Minister John Key's statement today that the mine will be sealed and said last night's announcement that police were abandoning recovery efforts "came without warning to the families and in circumstances which caused them further and extreme distress and confusion".
"The families are gravely concerned about events of the past 24 hours."
The families had not been consulted about the decision and "have extreme reservations about any such decision as they have had no input themselves", said the statement.
Mr Monk earlier told nzherald.co.nz still believes more can be done to make the mine safe enough for the body of his son to be recovered.
"When those mine rescuers come off the hill and look me in the eye and say 'Bernie, there's nothing more we can do' - I'll accept it," he says.
"Up until then, I'm not believing it."
Mr Monk says he has been disappointed with how authorities have dealt with families during the recovery operation at Pike River.
Police gave mixed messages about the future of the mine before yesterday's announcement that they were abandoning a recovery operation, he says.
"It's a sad day for New Zealand what happened here. I'm so confused about the way it's been handled, it's ridiculous.
"They said this could happen, but they didn't say it would."
He is calling on the Government and police to find a way to access the mine.
"I just don't think they've gone into it far enough. I'm not angry about it happening. I'm just angry that I don't think all things have been covered.
"The decision has been made ages ago and they're just following it through."
Earlier today, Prime Minister John Key said Pike River mine will be sealed and there is little or no chance of the bodies of 29 men killed being recovered in the near future.
Mr Key said it was "obviously a very tragic end for the families".
He had previously said the government was fully committed to removing the bodies of the 29 miners and contractors who died in a blast in the mine in November to give the families full closure.
"That is just not possible. It is not an issue of money or time or commitment," Mr Key said today.
- with NZPA