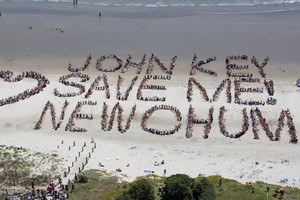 A long-running dispute over development at Kennedy Bay, on the north-eastern coast of the upper Coromandel Peninsula, could be solved by the sort of compromise proposed for nearby New Chums, one of the parties says.
Stephanie Palmer, a Maori health academic who lives in the bay, says three planned subdivisions will bring great harm to the small, predominantly Maori settlement.
The developments have divided the community for the past 14 years. Two of the subdivisions have resource consent, and the other has an approved structure plan.
Both Maori and non-Maori participants in a meeting held last month to assess the impact of the development were almost universally opposed to it, Dr Palmer said.
Subdivision would cause further alienation from the land for many locals, marginalisation of Maori identity and culture, and pressure on resources and infrastructure, opponents believed.
Dr Palmer hoped the new assessment would spur the developers to join community representatives in reaching a compromise along the lines of the New Chums' proposal.
The owners of New Chums, which lies slightly south of Kennedy Bay, have proposed to go halves with the Government in putting the beach and 333ha of farmland behind it into public ownership.
At Kennedy Bay three separate owners, two of whom are Maori, were proposing to create a total of 50 house lots over 50ha behind the beach. Instead, a combination of Ngati Porou and landowner money could return the land to collective ownership, Dr Palmer said.
The two Maori owners were brothers Robert and John McLeod.
Robert McLeod says he purchased land on the open market over 10 years ago and had no intention to subdivide or sell. He had given no thought to the New Chums scenario, and did not propose to.
His brother declined to comment.
Barry Nunn, who had consent for 17 lots in his beachside land, said he had spent a fortune going through the required processes and believed there were no real objections, other than Dr Palmer's.
Dr Palmer said the land should never have been taken from collective Ngati Porou ownership in the first place. It was gifted to them by Hauraki iwi to occupy and was subsequently wrongly put into individual titles. The land was subject to a Waitangi Treaty claim.
Compensation paid through the treaty settlement process could be used to help purchase the land for Ngati Porou, she said.
About 40 people attended last month's meeting at Kennedy Bay to assess the impact of the three subdivisions from a Maori perspective. They used a new tool, developed by Dr Palmer with a grant from Te Puni Kokiri, to rate their attitudes.
The Cultural Impact Assessment was aimed at incorporating Maori points of view in Resource Management Act issues and improving local government decision-making.
- NZPA