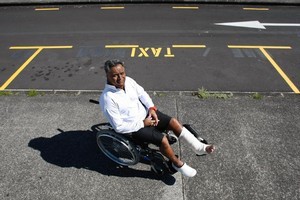 North Shore Taxis is promising firm action against a cabbie who allegedly refused a wheelchair patient a ride from hospital, unless he can provide a satisfactory explanation.
"Unless there is some outstanding excuse, he will be dealt with severely," company spokesman Barry White said yesterday of the driver who Ian Taiaroa says refused to pick up him and his fold-up wheelchair from a taxi rank inside the grounds of North Shore Hospital on Tuesday.
Mr White, who is also chief executive of the co-owned Auckland Co-operative Taxi Society, said the North Shore company had a hard-line policy against drivers who refused rides for no good reason such as if a prospective passenger was drunk or looked unlikely to pay the fare.
"Certainly not because a bloke's in a wheelchair or a person's pregnant - that's just not acceptable," he said.
But he said North Shore Taxis had to follow due process in seeking a written explanation from the driver concerned, "and depending on the response, we deal with it".
"I can tell you it's dealt with seriously - these sorts of things aren't brushed under the carpet."
Mr White said he understood the taxi was a dedicated LPG-fuelled Ford Falcon with limited room to fit a wheelchair in the boot.
But he believed the driver should have put the wheelchair in the back seat, which is what Mr Taiaroa said happened when he caught the same taxi without any difficulties before Christmas.
Mr Taiaroa managed to catch a ride in another taxi, from the Auckland Co-op fleet, after being turned down by the North Shore driver, but decided to complain to the company on a point of principle.
Waitemata District Health Board communications director Paul Patton said the board was disappointed to learn that a patient was refused transport by a company which had an exclusive agreement to provide a taxi service from outside the main entrance of North Shore Hospital.
"The DHB contract clearly states that North Shore Taxis must provide vehicles that are adaptable and suitable for transporting people who may be immobile and otherwise physically incapacitated."
Mr Patton said the health board was investigating the matter.