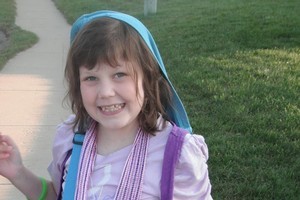 A chronically ill Hawkes Bay girl has been put on experimental drugs to stop her body rejecting the transplanted organs giving her hope for a normal life.
Nine-year-old Matisse Reid has spent her life in pain and being fed through an intravenous drip due to rare disorder Intestinal Pseudo Obstruction.
Doctors have been trying to fight antibodies causing her to reject the new large and small bowels she received in a 12-hour surgery on December 8.
They have put her on an experimental drug that is yet to gain approval for use in bowel transplants from the Food and Drug Administration (FDA) in the United States.
It has only used to fight bowel rejection by one other child patient in history, just months ago.
Matisse's mum Jodee Reid says the family faces an anxious wait for the results of the 28 day treatment.
"Matisse is yet again an experiment. Over the years most of our options have been to experiment; at times it worked and others it did not.
"In other words we are between a rock and a hard place and have little other option than to trust our team.
"We sit and wait to see if we are going to win this war of rejection."
Matisse needs the new large and small bowel to give her a chance to eat for the first time and to prevent the regular episodes of stomach pain and retching that come with her condition.
The Reid family moved to the US three years ago to be near the Children's Hospital of Pittsburgh when transplant organs became available.
They were overjoyed and grateful when that moment came on December 8, Mrs Reid said.
But Matisse has faced a constant battle to stop her body rejecting her new organs ever since.
She has experienced bleeding, fevers and pain, while undergoing courses of heavy medication.
Mrs Reid says the three weeks since the operation would have been even harder to endure without the support of family, friends and medical staff.
"To be honest it feels more like three months in terms of the road we have travelled. Matisse has had some major stuff going on and I am blown away by how quickly each issue has been solved.
"We have been well supported by friends and neighbours who are still dropping off meals - thank you."
Matisse is no stranger to setbacks on her road to recovery.
She was left devastated by Hells Kitchen star Gordon Ramsay when he pulled out of a commitment to speak at two dinners raising money for her treatment in October.
Lawyers said the last minute cancellation was due to circumstances beyond the star's control.
That came on the back of the family suffering eight "false-alarm calls" in their wait for Marisse's organ transplants.