KNIGHT COMPANION
For services to literature: James McNeish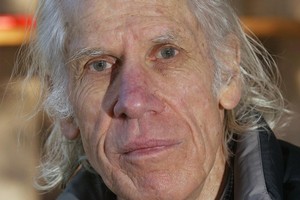 When author James McNeish found out about his New Year honour, he had to go to bed for a few hours to convince himself it wasn't a hoax.
The author, whose work spans five decades and many genres, said that when he received the letter telling him he was to be made a Knight Companion of the New Zealand Order of Merit, he was sure it couldn't be true.
"I thought, 'Well, this doesn't seem right', so I got into bed and slept for a few hours and thought, 'When I wake up, I'll know if it is real or not'. When I woke up, I found that it was. But it was a surprise, a real surprise," he said.
Sir James' works include Fire under the Ashes, about the life of an anti-Mafia reformer in Sicily, The Mask of Sanity, which looks at the Bain murders, and most recently The Crime of Huey Dunstan, which explores the provocation law defence in New Zealand.
He has also worked for the Listener magazine and the BBC.
This is not the first award for Sir James. He was nominated for the Booker Prize for his 1986 book Lovelock, he was the National Library of New Zealand Fellow in 1999, and last year he was awarded the Creative New Zealand Berlin Writers' Residency.
On his return from Berlin, Sir James was awarded the Prime Minister's Award for literary achievement in non-fiction. The money from that award will be used to set up a travel fund for authors keen to visit Third World countries.
"This [knighthood] is enormously flattering, but also very humbling. I've been very lucky with awards and it's a way to give something back."
Sir James, 79, said he hadn't thought about how to celebrate the New Year honour but would probably get together with close friends in Wellington, where he lives with his wife, Lady Helen.
His focus next year will be setting up the travel fund, publishing his memoirs, which he began in Berlin, and possibly a novella as well.
"I'm always writing, always scribbling, and I find I'm so busy over Christmas and New Year's that I don't have much time for resolutions or things like that."
Sir James said the book he most enjoyed writing was Lovelock, which explored the life of the great New Zealand runner Jack Lovelock.
- NZPA