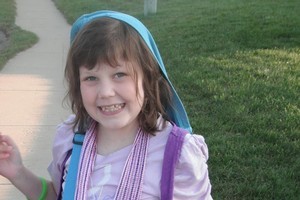 Matisse Reid's double celebration of her 10th birthday and Christmas Day came to a halt when the Napier girl was taken back into intensive care.
On Christmas morning, her mother, Jodee Reid, had commented online that Matisse - who suffers from chronic pseudo intestinal obstruction and has never been able to eat - appeared to be improving despite suffering a moderate rejection of her new organs. She is in a hospital in Pittsburgh.
"The transplant doc thinks Matisse's rejection may be improving ... Aside from the pain, she seems better," Ms Reid wrote on her blog.
But by the afternoon the family were told Matisse would need a stronger immuno-suppressant after results showed her condition had not improved as first thought.
She could be in intensive care for five days while she is given the drug.
Ms Reid said Matisse was in intensive care as a precaution to monitor her reaction to the drug.
And yesterday, after she had had a terrible night of vomiting and fevers, other transplant patients gave the family reassurance.
"Apparently this is normal and as far as side-effects go she is doing pretty well," Ms Reid said. "We are reassured by all our transplant friends, and hope that, like our friends, Matisse will beat this rejection. Now we wait."
It has been two weeks since Matisse received a new small and large intestine.
She first suffered a mild rejection of the new organs, which was later upscaled to moderate.
On Thursday, doctors gave her the green light to start a clear food diet. She tasted some broths and jelly and later tried wonton soup (without wontons), rice and vanilla ice cream.
It was difficult for Ms Reid to watch Matisse eat the food as it caused stomach pain.
She said it was not the same pain as before the transplant, when she would eat a teaspoon of food and be doubled over in pain. It was worrying, though. "We still do not know how well her own stomach will empty as this [the transplant] was the big gamble with not waiting for a donor stomach," she said.
Ms Reid said the family remained positive.
- APN