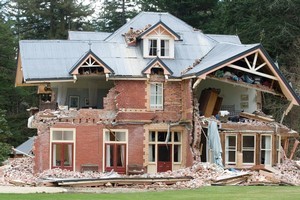 The rebuilding of houses damaged in the Canterbury earthquake could be sped up by Government guidelines released today.
Building and Construction Minister Maurice Williamson said the Department of Building and Housing document released today aimed to assist in the recovery effort by providing a clear and consistent approach to the rebuilding work as desired by councils, insurers, designers and builders.
"A consistent approach to repair and reconstruction in areas will minimise delays and aid the recovery," he said.
"This document proposes engineering solutions that enhance quality and safety and are consistent, robust and well considered."
The document is part of the Government's support for recovery in Canterbury and the department's work to simplify and streamline consent processes in Christchurch, Selwyn and Waimakariri.
It would initially apply only to houses affected by the Canterbury earthquake, but the department would consider incorporating them into more general guidance for the rest of the country in the future, Mr Williamson said.
- NZPA