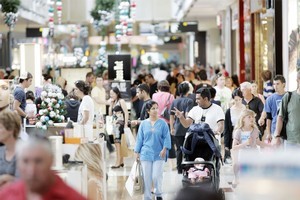 A mad dash to the shops just before Christmas is expected as shoppers once again leave their spending to the last minute.
Spending habits over the last two Christmases show most people have been leaving much of their shopping until the three days, and the trend looks likely to continue.
This year there was a spending spree for the first three days in December, but wallets have been kept in their pockets since, Paymark said yesterday.
Simon Tong chief executive of Paymark, which processes about 75 per cent of the country's electronic transactions, said the three-day spending spree saw 8.4 million transactions recorded - up 7.4 per cent on the same time last year.
The value of transactions was up 8 per cent with $435 million in spending - the big recipients being supermarkets, restaurants/cafes and handyman/decorating stores which recorded annual growth above 10 per cent.
However, transactions across the country had dropped off by the weekend, with weekend sales slowing to just 1.8 per cent growth - levels that mirrored mid-year trends, he said.
Geographically, the spending surge was seen most in the North Island with annual growth averaging 8.3 per cent, compared to the South Island, which grew 4.4 per cent during the three-day period.
Sales between December 1 to 12 were up 4 per cent on last year, following 5.5 per cent spending growth for all of last month compared to November 2009.
Mr Tong said the early spend-up and subsequent lull in sales was a sign that the retail landscape was patchy.
By region, Wellington, the West Coast and Nelson are experiencing slow sales, with modest spending growth of 2.5 per cent, 1.6 per cent and 1.9 per cent respectively.
Marlborough, the only region to record a decline, had the biggest sales drop, down 6.5 per cent on December.
Retail Association chief executive John Albertson said last month that Christmas sales could be up 2 to 3 per cent on last year as the impact of October's tax cuts was starting to be felt. The warm, early summer was also helping lift confidence, which increased consumer spending, he said.
Big spenders
UP
Auckland & Northland - +4.6 per cent
Waikato - +6.9 per cent
BOP - +6 per cent
South Canterbury - +6 per cent
DOWN
Marlborough - 6.5 per cent
TOTAL NZ - +4.0 per cent
* Nov 2010, source: Paymark