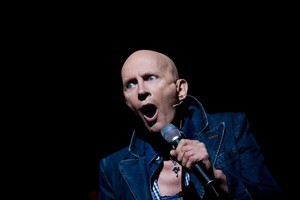 The creator of the Rocky Horror Picture Show has donated a costume he used in the production to an appeal for those affected by Canterbury's massive September 4 quake.
Richard O'Brien donated his custom-made Gaultier coat tails and Fender guitar to the Red Cross earthquake appeal after appearing as "The Narrator" during a five-week national tour, which finishes in Christchurch tonight.
"It's a token of my appreciation of the hospitality Christchurch has shown me and the cast during our visit here," O'Brien said.
"I'm hoping it will make some small difference to the massive task of rebuilding this beautiful city," he said.
O'Brien, 68, who was born in Britain, came to New Zealand as a 10-year-old with his family in 1952 and lived in Hamilton and Tauranga, before leaving in 1964 for London.
He was given New Zealand residency in September after associate immigration minister Kate Wilkinson relaxed the usual age criteria and the need to have a job offer. He hoped to retire north of Tauranga.
The items will be put up for auction on Trade Me website on Wednesday.
- NZPA