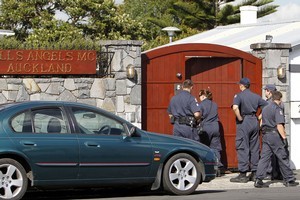 Seven people have been arrested after drug raids on nine properties including the Hells Angels gang headquarters in Auckland this morning.
Police said the raids came on the back of an "intensive" two month investigation into a Hawkes Bay methamphetamine ring.
They alleged the men arrested today had been buying large quantities of methamphetamine from the Auckland Hells Angels and selling it from a Napier property.
The men were also allegedly distributing the drug to dealers in the city for on-selling, police said.
Six people will appear in the Napier District Court today, while one person will appear in the Auckland District Court.
Napier Area Commander Inspector Kevin Kalff said today's raids put a dent in a "thriving" drug trade that stretched across New Zealand.
"This was a well-organised group with strong gang connections in Auckland.
It is indicative of a thriving drug trade that reaches into every corner of New Zealand and is not just confined to the big cities," he said.
The arrested men have been charged with conspiracy to supply methamphetamine, supplying methamphetamine, possession of Class A drugs abd supply and conspiracy to manufacture methamphetamine.
Today's operation follows the arrest of a 41-year-old Clive man last week, police said.
Police said they searched a house in the township between Napier and Hastings and seized nearly 5 ounces of P, with a street value of about $130,000.
- NZHERALD STAFF