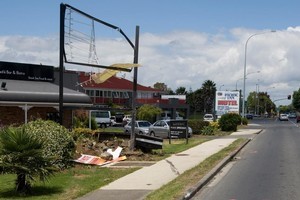 Two people are dead and five others injured after two police pursuits ended in crashes at the weekend.
The fatalities were the 15th and 16th police-pursuit deaths this year.
The 33-year-old male driver of a Subaru died instantly when he lost control on Kirkbride Rd, Mangere and hit a sign about 11.30pm on Saturday night. The impact caused the sign to fly into a carpark and debris damaged a nearby restaurant.
A 27-year-old man who was the front-seat passenger suffered serious head injuries while a 29-year-old man received moderate injuries.
Both were in a stable condition at Middlemore Hospital last night.
The Subaru crashed about 30 seconds after the pursuit began. An unmarked police car saw the car speeding - but when officers started to follow the driver accelerated.
In the second crash, four people were thrown from a stolen car when it crashed into a ditch on Chapel Rd, Botany.
A female passenger who was admitted to Middlemore Hospital died last night. Police have not released her name.
Inspector Jason Malcolm, of Counties Manukau police, said officers spoke to an occupant of the car at Maraetai Beach about noon, but the driver sped away.
"Soon after police attempted to intercept the vehicle but abandoned their action when the standard of driving by the offending male deteriorated."
A short-time later the car was found crashed in the ditch. The four occupants had been thrown from the vehicle.
The Serious Crash Unit is investigating both crashes.
Mr Malcolm said police were in a difficult position when a fleeing driver failed to stop.
"The important question that needs to be considered is why an individual feels the need to avoid speaking to police."
The onus of responsibility ultimately rested with the drivers.
"Drivers who flee from police put themselves and innocent road users at great risk," he said.
The separate police investigations would be peer-reviewed by an out-of-town investigator.
Sachin Ghadiyar, manager of Aerodeck, the restaurant damaged in Mangare, said the restaurant closed just 20 minutes before the crash.
Debris from the crash smashed windows in the front door and knocked out wooden rails on the verandah.
People would normally be coming and going there at that time of night.
"It was very, very lucky ... normally at that time we have the last dinner guests moving out of the restaurant. It was only luck that we were closed."
Peter Nathan runs a motel on Kirkbride Rd opposite the crash site and is used to the speeding traffic.
"There are quite a lot of loonies, it's like a speedtrack."
There had been a crash at the same spot before when a driver lost control and destroyed a bus shelter, he said.