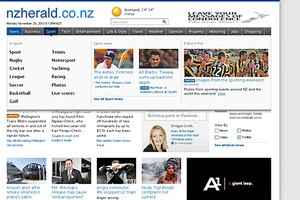 Welcome to changes to the top of the nzherald.co.nz home page.
From today, you'll notice changes to the way we display the top news stories, latest news and our navigation bar.
We have set out to give the top area a cleaner look, display the wealth of top opinion columnists and bloggers we have at nzherald.co.nz and integrate social media into the heart of our news.
The design tweaks:
- bring Twitter and Facebook into our Latest News and Most Popular application.
- overhaul the look and function of the navigation bar to make it easier to find at a glance the main stories in the top sections.
- give more emphasis to the lead story.
- lift up bloggers and columnists into our top stories area.
- give more options to display latest and most popular news, photos and video.
Max Flanigan, nzherald.co.nz's senior product manager, led the design project.
"Our aim was to show how much depth we've got on the Herald. We redesigned feature boxes and a new navigation bar to show our stories."
APN Online GM and nzherald.co.nz publisher Spencer Bailey said the team had worked hard to design a tool to allow readers to filter the news to suit their interests and preferences.
"The homepage is now a more interesting and engaging place."
Here are some of the key features of the tweaks:
- a new drop down navigation bar, which displays featured stories in each main section.
- a new Latest News and Most Popular tool, which allows readers to filter their preferences.
- new ways to feature stories and columns by bloggers and columnists.
Jeremy Rees, APN Online editor-in-chief