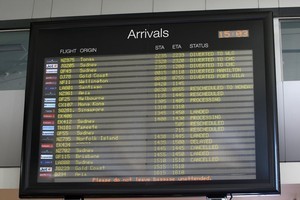 The body responsible for Auckland Airport's runway lights is under fire from airlines and a Government minister.
State-owned Enterprises Minister Simon Power has demanded answers from the Airways Corporation, a Government subsidiary which may also face compensation claims from disgruntled airlines.
Mr Power's spokesman said last night that although the fault was an operational matter, "he is concerned enough to ask for a report as a matter of urgency".
The Airways Corporation has apologised for the failure of its runway-edge lighting at Auckland Airport, a breakdown that forced thousands of passengers to be diverted to other airports.
The cause of the failure is not known, but the corporation says it may have been a delayed consequence of a lightning strike some time ago. Lightning had caused similar faults in the 1990s and in 2008.
The corporation is responsible for the more than 100 lights on the outer limit of the runway.
The lights within the runway and the approach lights stayed on, but the edge lights, a requirement of New Zealand law and international aviation rules, are essential for guiding pilots at night.
The edge lights failed at 8.10 pm on Saturday and were not restored until just before 4am yesterday, forcing the diversion of 17 incoming international and domestic flights, and delays for several departing flights.
Asked if Air New Zealand would make a compensation claim, a company spokeswoman said: "We will certainly be having discussions with Airways this week about the disruption caused."
The runway lighting is fed by about 30km of underground cabling. The blackout was caused by a fault in a 120m section, which has been bypassed with a temporary section of cable before a start can be made on permanent repairs today.
Asked if the fault blackened New Zealand's international reputation, Airways' group operations manager Lew Jenkins said: "Certainly we are not pleased it's happened. It's been a major blemish on our record. For that reason we are treating it extremely seriously and will be making our best efforts to mitigate it from happening again.
"We unreservedly apologise for the disruption to the travelling public, airlines and Auckland Airport."
Mr Jenkins said that in 2008, one circuit failed, taking out 20 per cent of the lights - not enough to disrupt flights.
Load testing was done on the lighting circuits every six months and no problems had been found. An internal inquiry would now be conducted.
"The maintenance programme is up to date and has been fully complied with."
Airline Pilots Association technical director, Stu Julian, an airline captain, said airport closures for technical reasons were rare, but he rejected a suggestion that Auckland's problem meant it was a third-world airport.
IN THE DARK
8.10pm Saturday - Runway lights fail
4am Sunday - Power restored
17 - Flights diverted; others delayed