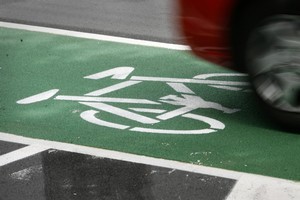 Transport Minister Steven Joyce is considering "regulatory changes" after crashes on NZ roads left five cyclists dead and another two critically injured this week.
In the most recent incident, a 15-year-old boy was knocked off his bike in Hastings after he apparently turned in front of an oncoming car about 5.50pm yesterday.
He was taken to hospital with serious injuries and is said to be in a critical condition today.
Yesterday, Mr Joyce promised to keep a close watch on inquiries into the cycling fatalities to see what could be done to prevent more deaths.
This morning he told Radio New Zealand he would consider regulatory changes following the "tragic series of accidents".
There would always be roads that were shared between cyclists, pedestrians and motorists, and it was "crucially important" people took care with other road users, particularly vulnerable road users such as cyclists, Mr Joyce said.
"There's no point being right...if you have an accident with a cyclist because a cyclist will always come off in a very bad shape as we've seen in the last couple of days.
People needed to follow the existing rules such as speed and red lights.
"The only way we get to change attitudes is if we all take the view that actually driving on our roads and being on our roads is a job in itself that we have to focus on, that we have to be careful because actually things can happen that we will regret for the rest of our lives."
He rejected a suggestion from cyclists' group Cycle Action that the Government did not care about cyclists as they did not contribute to road costs as "just silly".
"Obviously the Government is concerned about cycling, concerned about safety on our roads and very concerned about the recent spate of accidents, both cyclists and non-cyclists", he said.
Five fatalities
Five cyclists died in five days as a result of road crashes this week.
Jane Mary Bishop, 27, from East Sussex in England, died on Wednesday when she swerved to avoid a car door being opened and fell under a truck travelling in the same direction.
Ms Bishop was a nurse on a working holiday who was yesterday remembered as "popular and fun-loving" by her workmates at an inner-city medical centre.

Kay Heather Wolfe, 45, of Gordonton, died in Waikato Hospital yesterday morning of injuries inflicted when she was struck by a car that crossed the centre line of a road near Morrinsville on Sunday.
Mrs Wolfe was the third cyclist to die as a result of that collision - Mark Andrew Ferguson, 46, and Wilhelm Muller, 71, were also killed.
Patricia Anne Veronica Fraser, 34, was killed near Sanson in Manawatu on Saturday while training for the Lake Taupo cycle race.
Meantime a 12-year-old schoolgirl is fighting for her life at Auckland's Starship Hospital after falling from her bike under the wheels of a truck in Blenheim yesterday.
Special inquest
The chief coroner is launching an inquiry into cycle safety this week's accidents.
Judge Neil MacLean wants a special inquest into the deaths, to examine whether there were any patterns and possible law changes needed.
While still "firming up the details", the inquest would include road deaths over the past three years which were not yet resolved, he said.
"I have no idea how many cases are in the system, but we're looking at that over the next few days," he told Fairfax.
- NZPA and NZHERALD STAFF