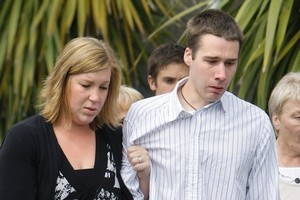 A hunter who shot dead teacher Rosemary Ives at Labour Weekend has pleaded guilty to manslaughter but is "terrified" of going to jail, says his lawyer.
Andrew Mears, 25, appeared in the Taupo District Court yesterday to admit the manslaughter charge, which carries a maximum sentence of life imprisonment.
Mears and two friends were "spotlighting" near a Turangi campsite, shooting deer in the dark from a moving ute, when the tragedy occurred.
Ms Ives was cleaning her teeth near the campsite before going to bed when Mears mistook a light on her head for the eyes of a deer.
He fired his rifle, killing Ms Ives. Her boyfriend, Adam Hyndman, performed CPR on her for 90 minutes.
Yesterday, Mears shook slightly as he entered the dock, and stood with eyes downcast during his brief appearance.
Defence lawyer Roger Laybourn said Mears intended to take responsibility for what he did right from the beginning, even if it meant serving a jail term.
"But quite frankly, he's terrified," he said.
Mr Laybourn stressed Mears' remorse and that he wanted the tragedy to be a lesson to others.
Judge Phillip Cooper accepted the guilty plea and remanded Mears on bail until February 2 - meaning Mears will get to spend Christmas with his family, but faces a jail term when he is sentenced next year.
Mears' wife, Brooke Mears, told the Herald on Sunday two weeks ago that the family had accepted that Mears, who is the father to their 15-month-old son, could end up in jail.
"If that's what it takes, he will.
"He knows that is a possibility.
"We have had to come to terms as a family that is a possibility. Of course it crushes him.
"He is the last person ever you could imagine going anywhere near prison," Mrs Mears said.
Mr Laybourn declined to comment on why Mears alone was charged, while his two companions with him in the ute were not.
It is illegal to hunt after dark on Department of Conservation land and Mears had contravened his permit by firing his rifle.
On private land, however, spotlighting is legal and considered an effective method to cull pests.
Mears had earlier pleaded guilty to reckless use of a firearm, but the charge was upgraded to manslaughter this week by police.
- additional reporting by NZPA