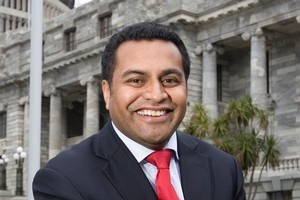 In the last week of campaigning for the Mana by-election Labour candidate Kris Faafoi is dismissing coconut jokes and urging people to get out and vote.
The by-election will be held this Saturday.
Mr Faafoi said Porirua city councillor Litea Ah Hoi's internet posting which called Liz Tanielu a "dumb-ass coconut" because she backed National's Hekia Parata was inappropriate and unwise.
"It was a comment between two people and I'm leaving it at that."
Mr Faafoi, a former Labour Party press secretary, said he was focusing on getting the people of Mana out to vote on Saturday.
The last week would be business as usual, he told NZPA.
"Getting out and about, we're doing visits, street corner meetings, we've got one more candidates meeting, so we'll just be getting out there, shaking hands and making sure we get our message out there for people to vote."
Competition for left-leaning voters from Unite Union's independent candidate Matt McCarten and Green candidate Jan Logie just meant Mr Faafoi had to work harder.
"We've got plenty of support but if they don't vote it'll mean nothing."
The by-election was called after former Labour MP Winnie Laban announced her resignation from Parliament. She took up a position with Victoria University.
Prime Minister John Key said Mrs Parata, a sitting MP, had run a strong campaign in the traditional Labour strong-hold.
"It's a long shot for us, but if National voters get out there and support Hekia Parata, hey, who knows?"
- NZPA