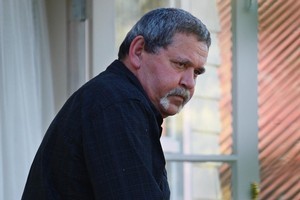 One of New Zealand's most notorious killers was released from prison yesterday in a highly secret operation - and was later enjoying freedom with a hot drink on the balcony of his new Auckland home.
David Tamihere left Springhill Prison in Waikato before 4am to evade waiting media and was taken to his wife's house in West Auckland, where he will live under strict parole conditions.
Some neighbours in the Glen Eden street were shocked to learn they were living near the man convicted of killing Swedish tourists Urban Hoglin and Heidi Paakkonen in the Coromandel in 1989.
Tamihere - slightly heavier now, and with short hair - seemed content and enjoying his freedom after 20 years in jail.
He shook his head when approached for comment.
"We will talk - there will be a time - but not today, of all days," said his wife, Kris Tamihere. "We're not doing any interviews at the moment."
News staff were waiting for Tamihere to be released from the prison as early as 4am - but he had already left.
His brother John, a former Cabinet minister who now co-hosts a RadioLive show, yesterday came out in support of him.
"After 22 years of being in a cage like an animal, the release plan has to be slow, not intense and not rowdy. We don't need that.
"The family's not making any comment and we just hope you will accept our right to privacy as we repatriate our brother."
One neighbour said she knew about Tamihere and the case very well, because of media coverage. "I didn't know his family were living there; that is a surprise."
The woman said she now at least had something to talk to her husband about over the dinner table.
Other neighbours said they were too shocked to say how they felt about the situation. One just stood with her mouth open.
In Sweden, the Hoglin and Paakkonen families meet often to share in their grief.
Mr Hoglin's brother Stefan told the Herald this month that they would have preferred Tamihere to stay behind bars.
"[The board] has told us he is improving and is a better person and it was coming up now.
"What do we say? It's the law. There's nothing we can do - it's up to the Parole Board."
Mr Hoglin said the families still had hope that they would find Ms Paakkonen's body.
"Maybe some day he will [tell]. But he hasn't now for so many years. He's kept it to himself - but one day, maybe."
Tamihere had skipped bail for a 1986 rape and was on the run when the young Swedes were murdered. He also had a manslaughter conviction for the 1972 death of an Auckland prostitute.
Pig hunters found Mr Hoglin's body in Coromandel bush about two years after he and his girlfriend disappeared.
Police had previously asked the Parole Board to make it a condition of his release that he reveal where Ms Paakkonen's body was.
Tamihere, 57, has always denied the murders so the board members said they saw no point in continually asking about her whereabouts.
The board accepted nearly two weeks ago a proposal for his release with an electronic monitor, saying it did not believe he would pose an undue risk to the community.
It noted a "remarkable breakthrough" as a result of Tamihere's involvement with a Maori psychologist which, with other treatment, had led him to move from being a closed person to being quite open about all aspects of his life.
The board stipulated that he must not consume alcohol or illicit drugs for his lifetime, that he undertake counselling as directed by his probation officer, and that he not have contact with his victims' families.
- additional reporting: NZPA