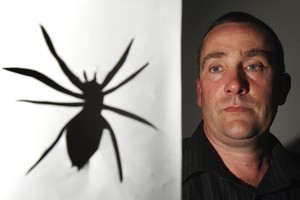 A Mt Maunganui man is still suffering the painful effects of being bitten by a white-tail spider six years ago, as more people speak out about spider bites after warnings the redback spider could be in Tauranga.
Electrician Simon Ellingham was working under a house in 2004 when he was bitten on both legs. He woke the next morning and found his legs bright red, "like a fire engine".
Doctors diagnosed white-tail bites and Mr Ellingham was rushed to Tauranga Hospital and operated on. The diagnosis was later confirmed when Mr Ellingham went back under the house and discovered a white-tail spider nest.
Mr Ellingham contracted a staphylococcus aureus infection.
Six years later, he still suffers painful outbreaks on his skin from the bacteria that refuses to leave his system.
"I end up having lots and lots of pimples in random places. They can end up being small dots to enormous boil-type lumps that need to be squeezed or lanced."
Mr Ellingham has no control over their outbreaks, despite changes to diet and lifestyle.
"Nothing changes it. I could have nothing for weeks, then get a whole run of them. It's a horrible thing to have. I have been to numerous specialists and numerous doctors."
His comments come after warnings that redback spiders could be in Tauranga and the story of Nicola Finlay, who is still recovering from a white-tail spider bite at Labour Weekend.
And Papamoa mother Sarah Sukker is still getting over her third and most painful white-tail bite in two years.
Ms Sukker said she was bitten by a white-tail on her chin two weeks ago. She could not talk and needed intravenous antibiotics.
"If a kid had that on their face, oh my God, I can't imagine how bad that would be. You can't take anything for the pain. It's horrific," she said.
International entomologist Ruud Kleinpaste said white-tail spiders were not venomous and infections came from bacteria the spiders carried.
Mr Kleinpaste said white-tails often set up home in people's weatherboards, cracks in brick walls, under the eaves or in the corners of a house because their favourite food was the common "house" spider.
Mr Ellingham suggested people fumigate if they wanted to get rid of white-tail spiders.
If anyone experienced a white-tail spider bite, they should try to capture the spider and take both themselves and the insect to the doctor.
A Bay of Plenty District Health Board spokeswoman said nurses saw many patients suffering from spider bites but only a few were from white-tail spiders.
- APN