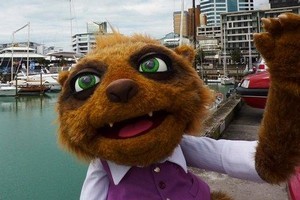 Air New Zealand's animated ambassador is back, making mischief in a new series of onboard videos.
The potty-mouthed puppet will be uttering double entendres throughout the safety briefing when the first of the national carrier's five new Boeing 777-300ERs arrives next month.
In the newest of six videos, Rico, created by Muppets creator Jim Henson's Creature Shop in Los Angeles, interrupts cabin staff during the safety briefing.
When one steward says: "Before we take off, we'd like to take you through the safety essentials aboard this flight", up pops Rico asking: "Before we take it off?" Later, after a female steward finishes speaking, he tells the camera: "I want to bear her children."
The airline's marketing boss Mike Tod says more than 600,000 have watched the first four online videos featuring Rico, who also appears in a promotion for its new economy "Skycouch".
In that video, two strangers are urged to get physical and Rico thrusts his hand into the male passenger's groin, calling him "steel warrior" and saying: "I am challenging you to prove your love, right here, right now.
This is a moment, desert flower." The couple are later seen lying together in an embrace.
Reaction to the Herald on Sunday about Rico has been largely negative.